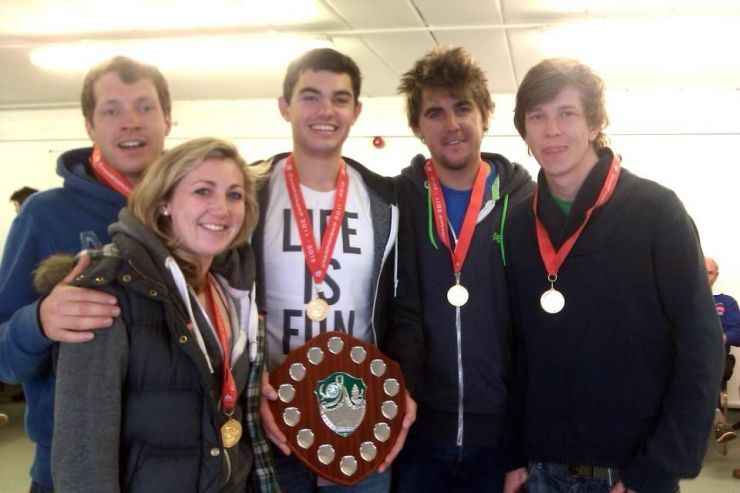 Eight university teams took to the water for the BUCS/BUSA Match Racing Finals on the 28th/29th April at Queen Mary Sailing Club, Staines. Racing was tough with strong winds and continuous heavy rain, however the Race Committee, umpires and teams, showed true British spirit and battled through the weather to complete the full round robin of 28 races on Saturday. The eight teams from seven difference universities attended the Final after winning their places from two qualifiers earlier in the year.
With strong overnight winds and even more heavy rain, six of the teams returned on Sunday morning with the hope that quarter finals, semi-finals and Finals could take place. Unfortunately the wind was still constantly over 28 knots at 11am, therefore Racing was abandoned and the results from the round robin stand.
Bristol University's James Goss and his crew Nick Wilkinson, Olly Sloper, Elliot Parsons and Emma Lombard won the round robin in style by winning every match. In second place was Southampton Ed Morris, who had to step into the helming shoes that morning after Ed Males fell ill. Luckily for Ed Morris he had the 2009 and 2010 Champion and current FISU World Champion Andy Shaw crewing for him! In third places was Portsmouth Universities Dan Henderson with his crew of Rodders Lacey, Neil Payne, Chris Rust and Liam Gardener.
James and his team are invited to represent BUSA at the RYA Match Racing Finals in November. But before that he will be heading to France in September leading GBR 2 for the FISU World University Match Racing Championships with his team of Olly Sloper (Bristol), Pete Johnson (Plymouth Grad 2011) and Nick Wilkinson (Bristol). GBR 1 will be led by Andy Shaw (Southampton), George Yeoman (Newcastle grad 2011), Ed Morris (Southampton) and Alan Roberts (Solent).
Finally, thanks go to RTYC/RYS for the use of their fleet of J80s, QMSC for hosting the events and the officials and umpires.