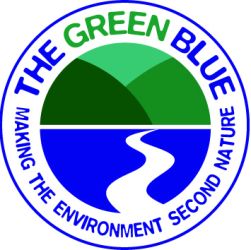 The Green Blue

The Green Blue is the joint environment programme created by the Royal Yachting Association and British Marine launched in 2005 at the Southampton Boat Show. We help boat users, boating businesses, clubs and training centres to reduce their impact on coastal and inland waters to keep them in great shape for now and the future. The Green Blue raises awareness, supports practical projects, runs bespoke outreach activities and offers easy to follow advice to make boating in the UK as sustainable as possible.

The Green Blue - launched at the Southampton Boat Show on 19th September 2005 - is the environmental awareness programme set up by the Royal Yachting Association and British Marine. Its mission is to promote the sustainable use of coastal and inland waters by boating and watersports participants, as well as the sustainable operation and development of the recreational boating industry.
The Green Blue's objective is to help boaters and boating businesses to minimise their impact on the environment by raising awareness amongst industry and users; reducing harmful discharges; reducing environmental disturbance; and encouraging sustainable choices.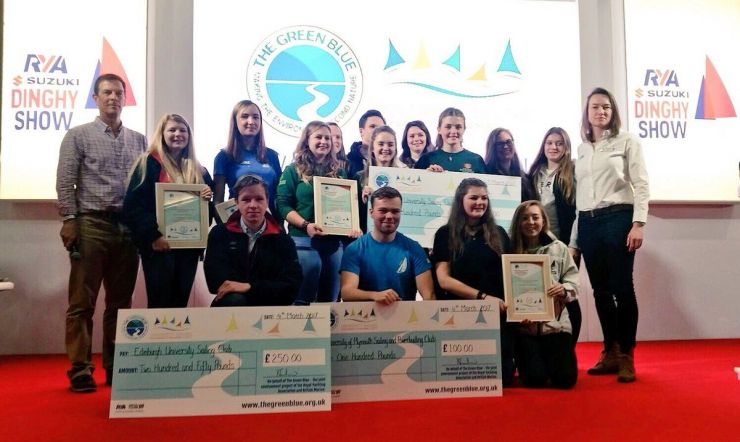 2017 Challenge winners receive their awards from Kate Fortnam of Green Blue and Peter Saxton, BUSA President at the 2017 Dinghy Show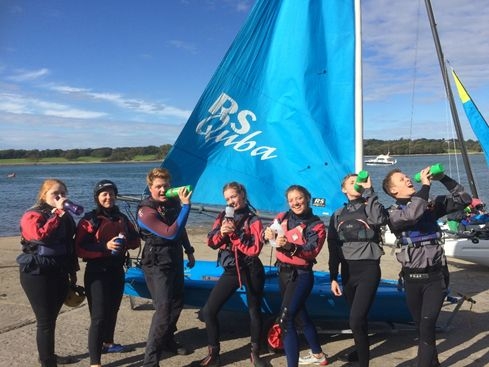 Bangor USC demonstrate their reusable water bottles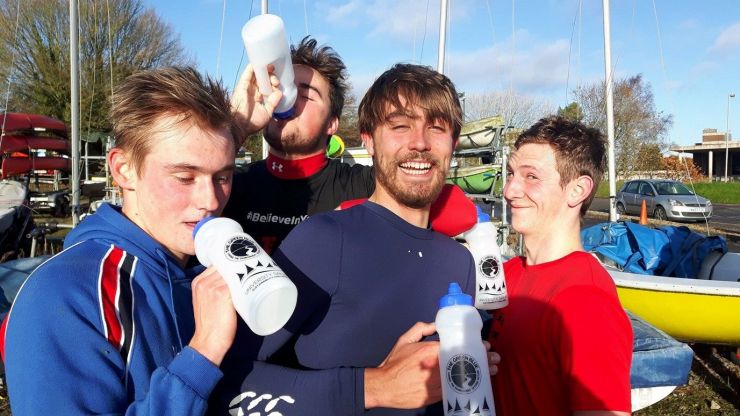 ***LATEST NEWS*** - April 2019:
The 2018-19 Challenge culminated in presentations at the RYA Dinghy Show in early March. This was reported in BUSA News and in a Report [a version was also published by Yachts & Yachting].
BlueGreen announced that there would be a further Challenge in 2019-20. University Sailing Clubs (USCs) are invited to participate, as well as existing participants welcome for another year with a view to progressing to the higher levels of achievement in the Challenge.
The student Coordinator for the year will be Emma Fox, who has experience of the Challenge as previous USC Sustainability Officer. She will shortly be contacting Commodores and their USCs, but anyone interested in getting involved is encouraged to make contact with her.

_______________________________

The following information from 2019-19 will be updated shortly.

IT IS BACK! THE UNIVERSITY SAILING SUSTAINABILITY CHALLENGE 2018-9
Starts September 1st 2018 - February 2019.
The Green Blue's University Sailing Sustainability Challenge is an annual competition designed to encourage university sailing clubs to take action to make their sailing more environmentally sustainable.
Supported by British Universities Sailing Association (BUSA), the initiative was launched in 2015 and in its first year saw 10 university sailing clubs signing up. In first place, achieving the Gold Award and receiving the £500 top prize was York University Sailing and Windsurfing Club. The University of Strathclyde Sailing Club clinched second place with a Silver Award and a £250 prize and finally in 3rd place after battling stiff competition from a number of other clubs was the University of Plymouth Sailing and Powerboating Club who achieved the Bronze Award and a £100 prize. The success of the challenge saw 20 university sailing clubs actively participate in the 2016-17 and 2017-18 challenge. In the most recent challenge the University of Manchester Sailing Club came in first, followed by Aberdeen University Sailing Club and Swansea University Sailing Club.
The challenge involves University Sailing Clubs competing to undertake as many sustainable actions as they can throughout the academic year. By undertaking these positive actions they will have the opportunity to demonstrate to the rest of the boating community how achievable and rewarding sustainable boating can be.
Each club needs to appoint a Sustainability Officer who will act as The Green Blue's main point of contact and the key driver to lead their club to success. In the last challenge students undertaking geography, science and marine related degrees were keen to take up the position to build on their skills and knowledge and add their involvement with a UK Sustainable Boating Programme to their CV.
Sustainable actions include: ensuring sailing venues have a Spill Kit available to clean up any accidental spills when boaters are handling oil and fuel, ensuring members use re-usable sports bottles during training sessions and events to reduce waste and single use plastic bottles, and making sure boats, trailers and equipment follow the Check Clean Dry approach to minimise the risk of spreading invasive non-native species around UK waters.
Sustainability Officer for York University Sailing and Windsurfing Club (YUSWC), Blair Davies said: "The sustainability challenge has been great in stimulating new attitudes as to how our club operates. As an environmental science student, it has given me the chance to apply my knowledge to lessen the environmental impacts of YUSWC. For the club it's been pivotal in establishing sustainable attitudes of all members, gaining recognition from the university's sports union and BUSA. There's always room to improve operations to become more sustainable, and The Green Blue initiative gives impetus to UK sailing clubs to be greener. It's very gratifying and something every club should get on board with."
For more information or if your university sailing club want to be involved in the 2018-19 challenge, contact Kate Fortnam, The Green Blue's Campaign Manager, or call 023 8060 4227.
You can cheer on the University Sailing Clubs through the Sustainability Challenge by following us Twitter - @thegreenblue - or on the Green Blue's Facebook page.
Other links: The GreenBlue website has lots of information, resources, ideas and news. The University Sustainability Challenge is also described there (as above)