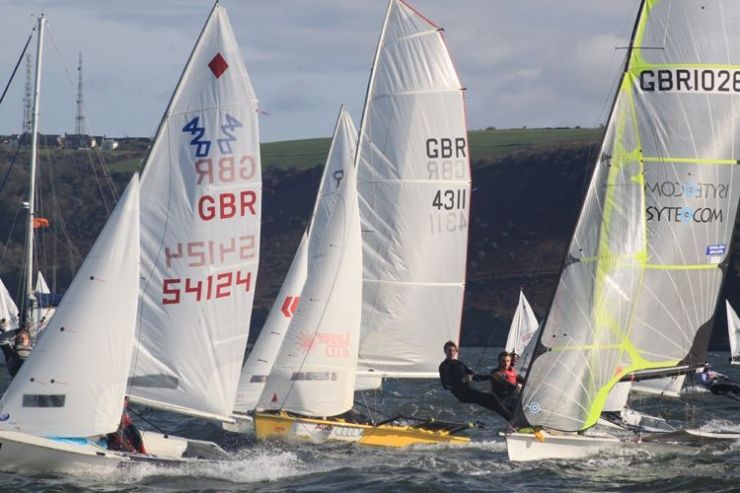 180 British university students enjoyed great sailing conditions and beautiful weather in Plymouth Sound for the 2011 Fleet Championships on 5th & 6th November. Charlie Poyner & Lottie Richardson (Bristol) won the Firefly Fleet, Chris Matthews & Rob Thomas (Plymouth) in a 49er the Handicap, Stuart Godwin of Bristol the Lasers and Andy Shaw & Rosie Sibthorp of Southampton, the RS Fleet. Bristol took the BUSA Fleet Team Trophy.
The British Universities and Colleges Sport (BUCS) and British University Sailing Association (BUSA) National Fleet Championships were held in glorious, if cold, November sunshine in Plymouth Sound on 5th and 6th November. The sailing conditions were excellent for the 180 sailors who descended the Mount Batten Centre, with force 3 – 4 winds throughout the weekend's racing. With three races each day in four fleets, Firefly, Handicap, Laser and, for the first time, RS, the racing was held on two courses, well clear of the naval and commercial movements both days.
Charlie Poyner & Lottie Richardson of Bristol won a close battle to be Firefly Fleet Champions by one point from Matthew Rainback & Suzy Russell of Exeter. Piers Strong & Evee Allen (Plymouth) led the following group to take 3rd, from Jonny House & Maya Gill-Taylor (Plymouth) and Andy Pinkham & Emma Best (UWE).
Chris Matthews & Rob Thomas of Plymouth in their 49er pretty much dominated the Handicap Fleet, except that a 9th in race 2 needed the discard to ensure them declared Handicap Champions. Nia Jones & Sophie Knight (Exeter) in a 420 had appeared at the top of the leader board until the discard, and they finished the Championships just two points behind the 49er. Andrew Wishart & Joe Standsfield of Surrey in a Laser II narrowly beat Adam Parry & Dan Silman of Plymouth in a Scorpion.
Stuart Godwin of Bristol won the Laser Championship for a second year with four bullets and a 2nd. Andrew Brown of Newcastle University, filling in the bullets missed by Godwin, came in with a strong 2nd. James Grant (Bristol) was 3rd, the leader of a further group of Laser Standards (Rich Cumpsty of Southampton, Lawrence Watkins and Olly Porter of Bristol, 4th, 5th and 6th respectively). Sarah Butterfield of Bristol led the Radials in 7th, from her team-mate, Anna Capenter and from Sophie Mckeenam of Plymouth
An RS Fleet was introduced into the Championships this year. Andy Shaw & Rosie Sibthorp of Southampton in a 200 were the clear Champions by 8 points from Chris Tiernan & Rob Henderson (Southampton Solent), also in a 200. Tim Norris & Hayley Bouma (Plymouth) and Hannah Diamond & Nikki Boniface (Exeter), both sailing RS800s, tied on points, with Norris & Bouma taking 3rd on countback.
There was a close battle for the BUSA Fleet Team Trophy, which is awarded to the highest performing team. With only two points dividing them, Bristol University, which dominated two of the fleets, were finally victorious over the local team, Plymouth University. 2009 & 2010 Champions, Exeter, were third, by one point. The top eight teams in the Team Trophy competition are all awarded BUCS points for their University(see below), so they should get an extra welcome back home!
Another first at this event was the participation of a Challenger in the Handicap Fleet, helmed by Alex Hovden, in his first year of a four year MSc in Physics at Southampton. We caught up with Alex as he came off the water on the last day and he was celebrating his 7th overall. He explained that he had been very keen to compete, though a little apprehensive, but having competed in the Grafham Grand Prix and the Tiger at Rutland, he had approached BUCS and BUSA, who had readily agreed to his entry. His choice of University had not only been because of the academic standing of the department, but also because it is midway between his home (and that of his Challenger) and Weymouth, where he regularly sails with the para-olympic sailors, in the SKUD. Having cerebral palsy, he has particular needs for support, but the 'great' Beachmaster, providing Alex with his own dedicated, 'wading' volunteer, together with the excellent slipway, had made it possible. The sailing conditions had been very good, "the water was brilliant, not too choppy" and the safety team very professional, meeting him before the start to check out any special needs. He was so enthusiastic about the facilities at the Mount Batten Centre, both in the Centre and waterside, and the attention of the Manager, Alex King and all the staff and his support team that he had already made approaches to see whether the Challenger Nationals might be held here.
This reflected the general response to the organisation of the Championships. For a second year it was an example of collaboration between several organisations and a strong personal commitment from many volunteers and staff. The host university, Plymouth, again put a great investment of time and effort, under the leadership of Phil Timmings who put it as follows: "the event demonstrates what we are together capable of; without assistance from volunteers, Mount Batten Centre, RYA, Plymouth Youth Sailing, University of Plymouth Sports Union and BUCS, this event would not have been possible! By working together with a single common goal, we achieved higher than any one organisation could have independently, and I hope that we can continue this ethos into the future". In thanking all the volunteers, he added, "All the feedback I have received has been highly complementary and many people are keen to see the event return to Plymouth for next year!"
A recurrent feature of the Fleet Championships is the many changes that competitors seem to need to make to their entries. While the organisers would much appreciate a reduction, we are pleased to record that £130 is being donated to Sail4Cancer as a result!
Event Director and BUSA Secretary, Jessica Beecher, said "Once again we have had a great to start the University year. Teams have blown the cobwebs off the boats and now look forward to a season of team racing events hosted by universities across Britain, culminating in qualifiers and National Championships in team, match and yacht racing in the spring next year. We at BUSA and BUCS are most grateful to all the partner organisations and many willing volunteers who have made the 2011 Fleet Championships such a success".
For full results, further news and photographs, go to www.busa.co.uk
Fleet leaders:
Firefly
1 Charlie Poyner & Lottie Richardson (Bristol) 11 points
2 Matthew Rainback & Suzy Russell (Exeter) 12 pts
3 Piers Strong & Evee Allen (Plymouth) 21 pts
4 Jonny House & Maya Gill-Taylor ( Plymouth) 22 pts
5 Andy Pinkham & Emma Best (UWE) 26 pts
6 Miles Blaver-Mann & Gilli Darling (UWE) 35 pts
7 Ed Morris & Simon Foskett (Southampton) 36 pts
Handicap
1 Chris Matthews & Rob Thomas (Plymouth) 49er 6 points
2 Nia Jones & Sophie Knight (Exeter) 420 8 pts
3 Andrew Wishart & Joe Standsfield (Surrey) Laser II 16 pts
4 Scorpion & Adam Parry & Dom Silman University of Plymouth 19 pts
5 Marcel Herrera & Olly Reeve (Plymouth) Laser 2000 35.5 pts
6 Dyfrig Mon & Julie Webster (Swansea) Laser 4000 35 pts
7 Alex Hovden (Southampton) Challenger 37 pts
Laser
1 Stuart Godwin (Bristol) Standard 6 pts
2 Andrew Brown (Newcastle) Standard 11 pts
3 James Grant (Bristol) Standard 27 pts
4 Rich Cumpsty (Southampton) Standard 29 pts
5 Lawrence Walters (Southampton) Standard 30 pts
6 Sarah Butterfield (Bristol) Radial 31 pts
7` Olly Porter (Bristol) Standard 32 pts
RS
1 Andy Shaw & Rosie Sibthorp (Southampton) RS200 9 points
2 Christopher Tiernan & Rob Henderson (Southampton Solent) RS200 17 pts
3 Tim Norris & Hayley Bouma (Plymouth) RS800 20 pts
4 Hannah Diamond & Nikki Boniface (Exeter) RS800 20pts
5 Tom Brophy & Ian Mayhew (Exeter) RS200 23 pts
6 James Wilson & Peter Goodyear (Loughborough) RS200 25 pts
7 Hannah Vallis & Alex Poyner (Falmouth) RS200 28 pts
BUSA Fleet Team Trophy
1st Bristol University
2nd Plymouth University
3rd Exeter University
4th Southampton University
5th Southampton Solent University
6th Surrey University
7th University of the West of England
8th Brunel University
Photographs: Credit Kristian Brunt-Seymour, University of Plymouth