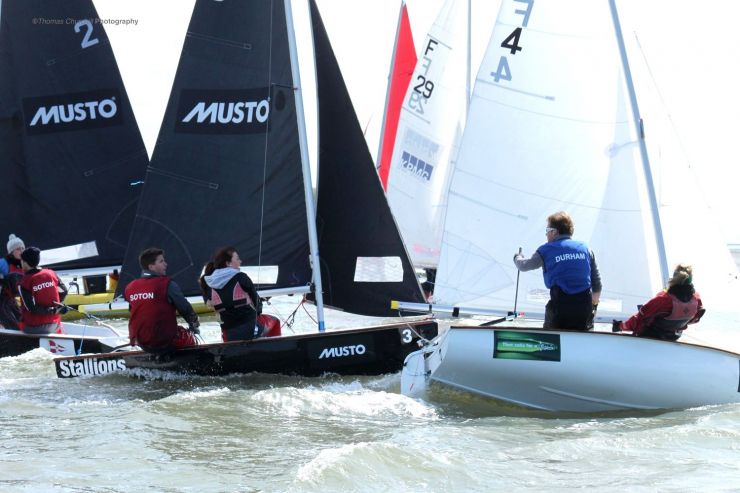 1st Bristol Red (winning 3-1)
2nd Oxford Blue
3rd Cambrisge Blue
4th Exeter Red
Full results and report to follow.
British Universities' best team racers converge on Chew Valley for three day BUCS Finals, this year with Live Updates…..
British Universities and Colleges Sport (BUCS), in conjunction with the British Universities' Sailing Association (BUSA), are holding the Finals of the national Universities' Team Racing Championships over three days this week, from Wednesday 3 to Friday 5, April. New for this event, live news will be posted during the Championships on a Live Event Update – and you will be able to contribute comments!
168 student sailors, in 28 teams from 22 British universities, converge on Chew Valley Lake Sailing Club, to be hosted by Bath University. The teams that have succeeded in gaining selection have been drawn from an original entry of 78 teams, representing 35 Universities, that competed at five 'Qualifyers' held in areas of the UK in February – in Scotland (Aberdeen USC/Stonehaven SC), Northern (Leeds USC/West Riding SC), Midlands (Warwick USC/Draycote SC), South Central (Southampton – Wessex SC/Spinnaker SC) and Western (UWE SC/Chew Valley SC). 19 teams won places at the Finals at that stage. A further eighteen teams had a second chance to gain a place by competing at Playoffs held at Chew Valley last month, from which 9 additional teams achieved places to compete in this week's Finals.
The competing teams are shown below in the draw for the first round of racing on Wednesday:
1. Oxford Blue v Glasgow Black
2. London Purple v Bristol White
3. Strathclyde Blue v Liverpool Pink
4. Solent Black v Plymouth Pink
5. Southampton Red v Warwick Purple
6. Durham Black v Loughborough Purple
7. Cambridge Blue v Cardiff Black
8. Nottingham Pink v Ireland
9. Loughborough White v York Black
10. Cambridge Pink v Birmingham Blue
11. Bristol Red v Durham Purple
12. Newcastle Brown v Cardiff Red
13. Edinburgh Blue v Solent Red
14. Exeter Red v Portsmouth Purple
Formal information about the Finals, including the NoR etc.. can be found on the BUSA Calendar. And, more informally, on the BUCS Team Racing Championship Facebook [this is in addition to BUSA Facebook].
But, new for this event, live news will be posted throughout the Championships on a Live Event Update – and you will be able to post comments.