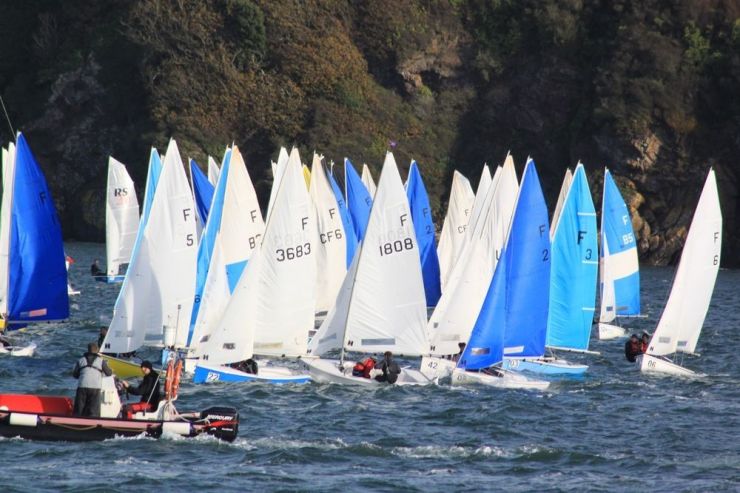 See full story in Press Release
with photographs.
BUCS Fleet Racing Championships 2012 – entries now open –
Will Bristol make it a double?
Entries are now open for the British Universities and Colleges Sport (BUCS) Fleet Racing Championships 2012. The first university sailing championship of the season will be held on the 3rd/4th November 2012 on Plymouth Sound at the Mount Batten Centre and hosted by Plymouth University, with active support from the Sports Union and Plymouth Youth Sailing.
This is a great opportunity for student sailors, whether seasoned fleet racers or newcomers to sailing at university, using university boats or their own, travelling with a team or operating as independent sailors, to get involved in student sailing at a national level.
The event is not only about individual performances, but also the overall team performance. Vital BUCS Sport 'points' (that help fund individual Universities' sport) are awarded to the top 4 boats in each fleet and to the top 8 teams overall! The event comprises four fleets, Laser, Firefly, Fast Handicap and Slow Handicap. The top three boats from each university are added together. The team with the lowest points, wins the Team Trophy and 20 BUCS points!
With 180 student sailors competing at last year's Championship, Bristol University were the eventual overall winners of the Team Trophy, closely followed by local hosts Plymouth University and by Exeter (Bristol, Plymouth, Exeter, Southampton, Southampton Solent, Surrey, the University of the West of England and Brunel all gained BUCS team points, along with podium points earned for Newcastle). Will Plymouth set the record straight, Bristol make the double, or one of the previous winning universities make a come-back this year?
Anyone at University can enter. The only requirement is that double-handers are sailed by sailors from the same university. So, if your university does not have a sailing club, but you have a boat and would like to enter, please get in touch with the BUSA Secretary – Send Email – to arrange Individual membership of BUSA (free for RYA Members).
See all details on BUSA Calendar
Enquiries (including individual BUSA sailing membership): Jessica Beecher, Secretary of BUSA, Royal Yachting Association T: 02380 604167| M: 07909 994 638 Send Email
Student Sailing across the UK from October to April
……and then the other National Student Championships for 2012-13
See further in Press Release