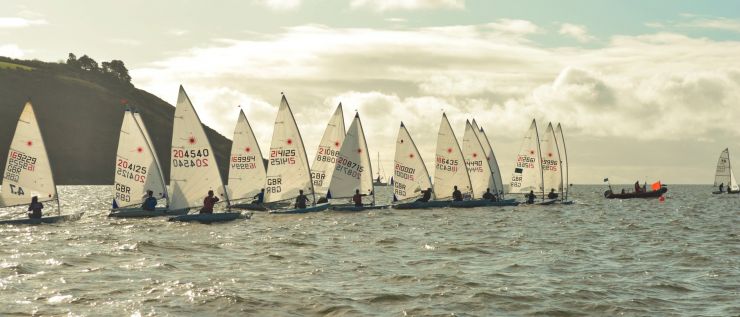 The British Universities and Colleges Sport (BUCS) and British University Sailing Association (BUSA) annual Fleet Racing Championships were hosted by the University of Plymouth Sailing Club. 85 entries where recorded for this years event, taking place at The Mountbatten Water Sports Centre over the first weekend of November.
143 competitors from 14 Universities battled within four fleets: Firefly, Laser and Fast and Slow Handicap. Many sailors use their own boats in the Lasers and the Handicap fleets, however most universities opted for Fireflies by using their own University sailing club's boats. There was a spread of experience and skill across all the fleets.

The racing took place over courses in the sound of Plymouth just North of the breakwater, with Saturday being completely blown out but extreme strength winds, it was all on for Sunday.
Close racing in the Laser Class created lead changes from race to race, with only 1-point difference between Chloe Barr (Laser Radial) from Portsmouth University and Lewis Smith (Laser Standard) from Edinburgh University, it was Lewis Smith who took home the trophy. Lewis Smith commented:
"It was a shame the weather didn't play ball on the Saturday, but the organisers did a great job to run 4 fair races in the sound on the Sunday. It was tight racing throughout and it was nice to see different winners for each race. It's always tricky sailing against the radials on handicap too; it's a different type of racing than usual, keeps you on your toes. It was a fun weekend and a special thank you to all the Bristol lot for having me as part of their team for the weekend"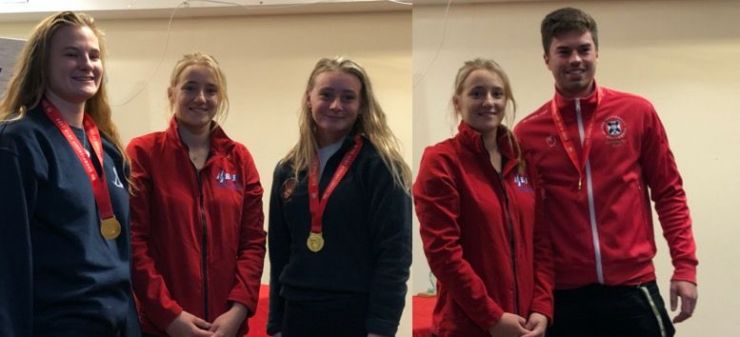 Left: Jessie Main and Millie Aldridge awarded their Gold Medals for winning the Fast Handicap Fleet. Right: Lewis Smith winner of the Laser Class, awarded his hold medal by BUSA committee member Nicole Ames
There was a battle between Exeter and Southampton Universities throughout the Fast Handicap Fleet, at the end of 4 races Exeter came out on top with a 2-point lead from Jessie Main and Mille Aldridge in their 29ER.

This year saw a number of veterans returning to the event, with Tommy Darling from Southampton quoting "It was awesome to get such a good day racing in Plymouth despite the tricky conditions, it made a nice change to get out on the sea and enjoy the Plymouth Sound for some great, tight racing across all the fleets"
The leading all-female boat in the Slow Handicap was a 420, sailed phenomenally well by Lainey Terkelsen and Emily Gent of Exeter University. In second position, with a close 4-point difference came Matthew Lulham-Robinson and Esme Shepard in their GP14.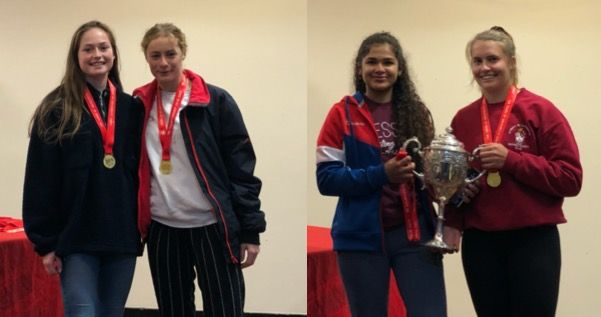 Left: Lainey Terkelson and Emily Gent winning the Slow Handicap fleet. Right: Cecilia Wollmann and Allena Rankine winning the Firefly Fleet.
BUSA were pleased to receive entries from Birmingham and Solent Universities from two sailors competing in the Hansa 303 accessible dinghy class. Despite the wind being slightly on the strong side on the Sunday morning, James Loosemore went out and braved the cold, quoting;
"It was a brilliant weekend and great to be involved and included within fleets and it shows a lot of promise for disabled university sailing in the future,"
Accessibility to sailing for university aged students is something BUSA would really like to promote going forward. It is really positive seeing James enjoying the Fleet Racing Championships this year.

There were 31 entries within the Firefly class this year. Four challenging and tight races left the all-female boat from Southampton University helmed by Cecilia Wollmann and crewed by Allena Rankine storming ahead to win the Firefly class by 3 points after a discard.
Fleets wouldn't be Fleets without Universities fighting it out between sailing clubs. In addition to the BUCS points for leaders in each Fleet, there is strong motivation to send full team (a minimum of three boats) – either all-male or all-female – with the aim of winning the two 'Team Championship' awards, or at least coming away with a slice of the BUCS points.

The Women's Team Trophy was won for a 3rd year by Exeter University and University of Southampton coming a close 2nd. With a role reversal for the Men's Team Trophy University of Southampton coming in 1stplace retaining their title and Exeter so close to grabbing it from them came in 2nd.
Thank you to Huw Pearce of Sailwave for providing full results which can be found here.
BUCS Points awarded to winning competitors can be fund here