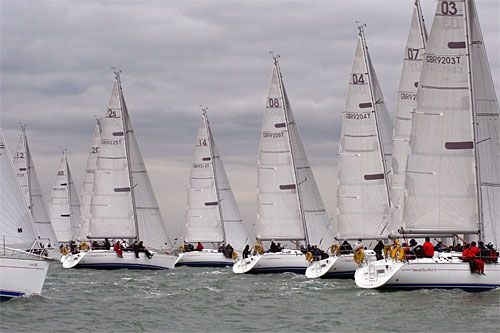 Entries are now closed. Entries received as of 23/03/10 4pm
| | |
| --- | --- |
| University | Skipper |
| Glasgow | Gavin Dunlop |
| Aberdeen | Jamie Bowie |
| Bath | Ben Martin |
| Bristol | James Goss |
| Brunel | James Thomas |
| Cambridge | Andrew Jackson |
| Dundee | Andrew Knowles |
| Durham 1 | Tom Lewis |
| Durham 2 | Ed Harrison |
| Edinburgh | Thomas Rippard |
| Galway (Ireland) | Eoghan McGregor |
| Imperial | Nicholas Lake |
| London | Tom Smedley |
| Loughborough | Charlie Wilson |
| Newcastle | George Yeoman |
| Oxford | Hendrick Coldenstrodt-Ronge |
| Plymouth A | TBC |
| Plymouth B | TBC |
| Plymouth C | TBC |
| Portsmouth A | Ben Stone |
| Portsmouth B | Ed Impey |
| Southampton Black | Alex Simpson |
| Southampton Blue | Owen D Llewellyn |
| Southampton Red | Cath Jordan |
| Southampton Solent Black | Chris Witty |
| Southampton Solent Red | Oscar Mead |
| Southampton Solent White | Guy Jackson |
| Southampton White | Philip Spicer |
| St Andrews 1 | Ross Watson |
| St Andrews 2 | Alex Nicholson |
| Strathcyde | John Mill |
| Surrey | Nicholas Martin |
| Swansea | Sarah Davies |
| Warwick 1 | Philip White |
| Warwick 2 | Matt Holden |
---
Published 20/11/09
Date: 29th March – 1st April 2010
Venue: Port Solent Yacht Club/Gunwharf Quay
Entries: Please note that entries for the above competition close on Monday 1 February. International entries welcome.
You need to complete 2 entry forms (BUSA and Sunsail Charter form)
BUSA Entry Form to be sent to Jess Beecher. Entry Fee: £150 payable to BUSA.
Sunsail Charter form to be sent to Sunsail. Charter Fee: £1275 payable to Sunsail. Damage deposit: £2000 payable to Sunsail.
Teams will only be accepted once all forms are completed and signed off by your AU/Sports Office.
Teams must consist of 8 sailors including 2 women.
Entries will be confirmed by e-mail when they are received in full.
All crew names must be sent in by the 5th March 2010.
Contact details: Jess Beecher, BUSA, RYA House, Ensign Way, Hamble, Southampton, SO31 4YA. Tel: 02380 604 167 Fax: 02380 604 290 E: jessica.beecher@rya.org.uk
Registration: Registration will take place on SUNDAY 28th March. All competitors must attend and to produce their university registration / library / matriculation cards to prove their student status. NUS cards WILL NOT be accepted as proof of eligibility to compete.
BUSA Sailing Subscriptions: All clubs must be members of BUSA Sailing. Entries will not be accepted until Subs are paid. Subscriptions are due by the 1st November 2009.
DON'T FORGET: SAILING KIT AND YOUR BOUYANCY AID OR LIFEJACKET!!!!

NOR and Entry forms are on the Calendar.