On Saturday the sailors made their way onto Bramble bank where they were met with champagne conditions of sun and south easterly breeze and racing was quickly underway. Into the afternoon the changing tide and dropping wind meant a change of course area was necessary and racing resumed closer inshore for another few flights until sailing at the windward mark came to a somewhat abrupt stop and the race committee called it a day at flight 11.
The sail out on Sunday morning suggested a rather bumpy day of wind against tide, but Osborne bay provided great shelter for the race course and the round robin was completed after 19 flights, meaning that the semis would be Southampton University Sailing Club 1 vs Cambridge University Sailing and Windsurfing and University of Bristol Sailing Club Vs Southampton 2.
Due to a number of breakdowns and boats dropping like flies, the RC opted for sudden death semis and finals - Southampton 1 winning SF-1 and after a close race Bristol took SF-2.
The pressure was on to make the single race final count but Southampton 1 managed a pre-start penalty over Bristol and brought it home for the win.
Many thanks to all that had a part in making the event happen including hosts Island Sailing Club, all of the race committee and umpires, volunteers and BUSA's own Will Caiger for his organisation!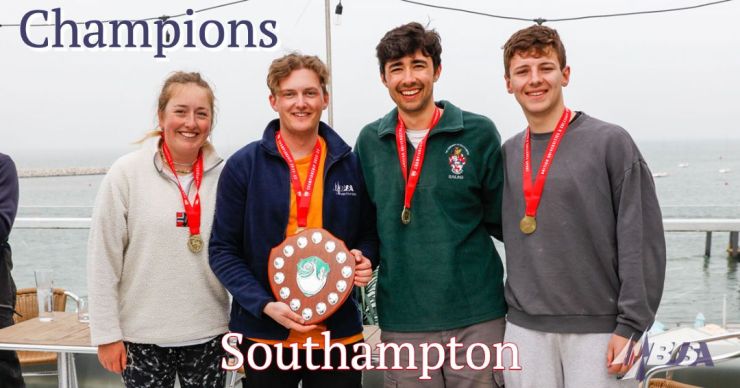 A massive thank you to Matthew Caiger for the amazing photos!
Full results can be found here