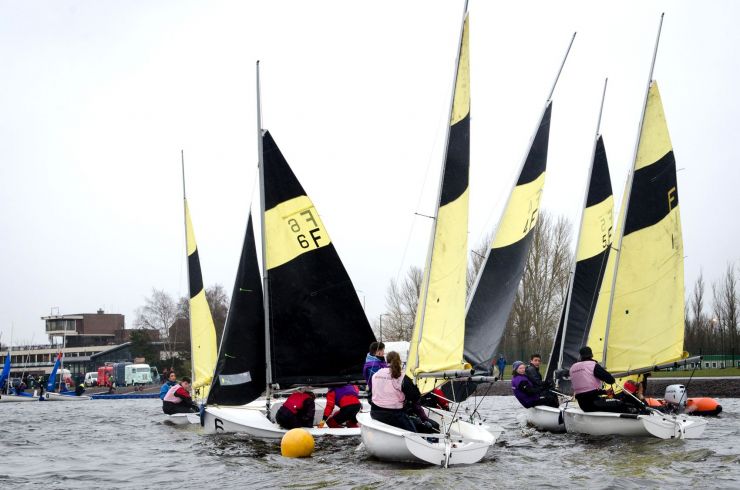 The Finals of the annual Team Racing Championships of the British Universities and Colleges Sport (BUCS) and British University Sailing Association (BUSA) will be held at Spinnaker Sailing Club from Tuesday 9 to Thursday 11 April 2019.
See full Preview with photos.
See all links for information during the Finals at the bottom of this page.

This is the culmination of an academic year's selection, training and competition. In February, the largest team racing event, probably worldwide, was simultaneously held over five venues across the UK. 540 sailors, in over some 90 university teams, competed in Qualifiers. Four of these covered English and Welsh universities, at four venues: Derwent Water, Grafham, Spinnaker and Chew Valley. In Scotland the event was the third in a series of 'League' weekends held between December and February at Bardowie Loch and on the Tay (planned events at Forfar having been iced up – inside and outside!). From these five events, 20 teams qualified direct to the Finals. A further fifteen teams went forward to Playoffs, held on Derwent Water, to find a further seven teams to go forward to the Finals. The 28th team invited to Finals is the winning team from the Irish Intervarsities, held in March
The 2018 top ten were: Southampton Green, Cambridge Blue, Exeter Blue, Imperial Blue, Strathclyde Green, Cambridge Black, Manchester Purple, Bristol Red, Oxford Blue and Southampton Red.All these achieved direct entries to Finals through the Qualifiers this year, except Oxford Blue, which led at the Playoffs, so gaining its place. Newcastle, Birmingham, Cardiff, Durham, Edinburgh, Manchester, St. Andrews, Sheffield, Plymouth and Southampton Blue also achieved Finals places direct. Loughborough Purple, Bath Blue, Exeter Black, London White, Bath Black, Nottingham Green qualified through Playoffs. And University College Dublin (UCD), the winners of the Irish Intervarsities 2019, makes up the 28-team Championship Finals.
Meanwhile, the organisers have been hard at work for many weeks to make all the preparations. BUSAs Technical Directors, Chris Lindsay and Emily Robertson, have been working closely with the host club,
Spinnaker Sailing. Teams of volunteers from across the country have been recruited, a race team to be led by Robyn Fitzgerald established and an international umpire team to be led by Jon Napier, together with Jury Chair, Andy Wibroe, is in place. A Media Team led by Izzy Burroughs of Glasgow will keep us all informed.
All the best to all the competing teams and may everyone at Spinnaker have a great Championship.
Follow the Finals:
See the official BUSA Championship page for all Notices and documentation
Follow the event on BUCS Team Racing Championship 2019 Facebook : @BUCStrChamps2019 and on BUSA Twitter: @BUSAsailing
- where there will be frequent blogging, and, subject to the technology, commentary and video/drone streaming.
Live Results and other information will be posted on ksail
There will also be links and some coverage on
BUSA Media Facebook page: @BUSAMedia
BUSA Sailing Facebook group

See full Preview with photos