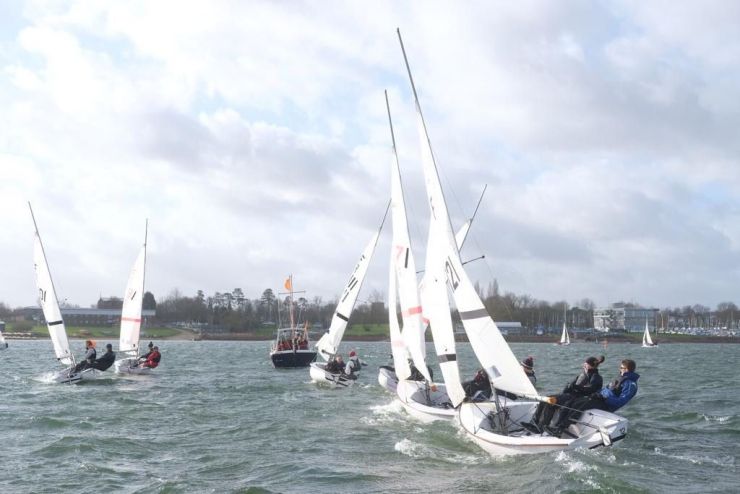 On the 1st and 2nd of February 2020, we kicked off the BUCS Team Racing Championship with upwards of 500 student sailors representing around 90 teams competing across 5 regional Qualifiers.
With weather forecasts lingering around the top end of the sailable spectrum for most of the weekend, following plenty of deliberation the call was made on Friday that all regional events would be going ahead as planned. Students, officials, volunteers and boats began their respective journeys to the following venues where hosts were putting the final preparations in place to welcome them:
SCOTLAND – Loch Ore, Scottish Student Sailing/University of St. Andrews Sailing Club
NORTHERN – West Kirby SC, University of Manchester Sailing Club
MIDLANDS – Grafham Water SC, Cambridge University Cruising Club
WESTERN – Chew Valley SC, University of Bristol Sailing Club
SOUTH CENTRAL – Oxford SC, University of Oxford Yacht Club
Saturday morning dawned with plenty of breeze already threatening the schedules in several regions. The Northern teams arrived to find an incredibly strong westerly wind blowing in from the Irish Sea, threatening sailing for the day. After due consideration from the race team, racing was postponed until Sunday.
Instead, competitors headed to the safety of the West Kirby SC club house for a rules and tactics session lead by the umpires. After lunch teams headed off to explore Liverpool or find alternative activities to fill their afternoon.
In the Midlands, conditions were distinctly more promising. Following a 9.30am briefing, PRO Bryan Ormond and Event Director Karen Thomas wasted no time in getting competitors afloat and racing with a 9.57am warning signal on the dot. All appeared to be going smoothly for the first few races until strengthening breeze forced a postponement at 11.30am. Despite a brief lull around midday triggering preparations to get back out and racing, this plan was swiftly abandoned when clouds and wind upwards of 30 knots hit Grafham Water. Racing was postponed for the day at 1.15pm.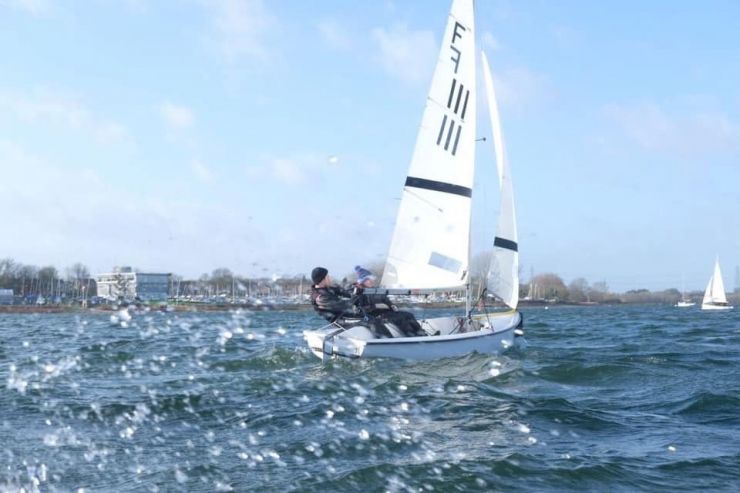 The theme of battling the weather conditions continued across the rest of the regions. Scottish teams were held ashore by strong winds at Loch Ore in the morning, before launching around midday. Just enough races were completed to enable leagues to be set up for Sunday before the wind died completely in true Scottish style.
In the South Central region, force 7 winds at Oxford SC prevented any racing on Saturday, whilst the Western qualifier at Chew Valley SC got a few races in before again, strong winds forced postponement.
The lack of racing across the country on Saturday meant that pressure was on to get plenty in on Sunday. The Northern region were treated to an early start time… a very early start time! The first boats took to the water as the sun rose at 7.27am, where some light and shifty conditions on the marine lake at West Kirby brought interesting and challenging sailing. All involved had great fun as the wind picked up throughout the day, and by the time the sun set and boats were forced back ashore a monumental 121 races were complete thanks to a huge effort from the race officials, volunteers and hosts Manchester.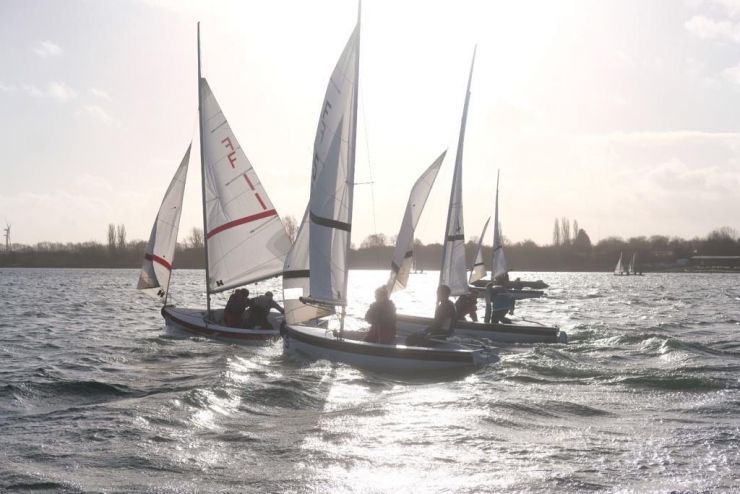 In the Midlands, racing kicked off at 8.57am. Again, increasing breeze made for some tricky conditions for racing, with a few less experienced teams getting perhaps more up close and personal with Grafham's killer shrimp than intended…. nevertheless 90 races were completed to round off the event.
Further South at Oxford SC, the battle with the weather continued. 60 round robin races were delivered by super PRO Keith Sammons and his army of volunteers from the southern universities, which was no mean feat in the conditions. Unfortunately, this was not quite enough to deliver a result, so the South Central region will return for a reserve day in a couple of weeks time.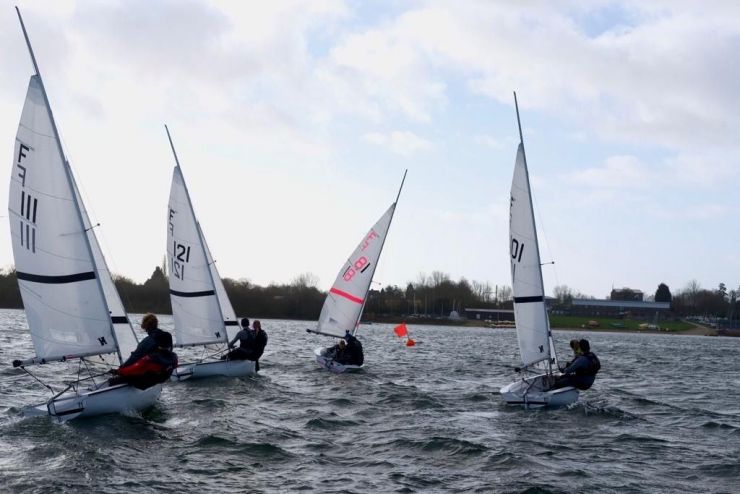 In the Western region, despite changing weather conditions causing headaches for the race officials, a big effort was put in by all to reach 85 races by the end of the day and complete the event.
Up in Scotland, the pool stage of racing was completed and the set of leagues was near completion despite Loch Ore receiving the full spectrum of wind across the weekend. SSS are looking forward to welcoming teams back for their third and final qualifier on the 8th and 9th of February 2020, to be hosted by Edinburgh University Sailing Club, where those all-important finals and playoffs positions will be decided.
BUSA would like to say a huge thank you to all the host clubs, event directors, race officials and volunteers for their support on what was a very difficult weekend, it wouldn't happen without you! We would also like to thank the competitors for their patience, and congratulate those teams who have already secured their places at the BUCS Team Racing Championship Playoffs and Finals later this year.
Final results for the Northern, Midlands and Western regions can be found HERE.
Stay tuned to our social media channels, @busamedia and @BUSASAILING on Twitter over the next couple of weeks to find out who will be joining them from the South Central and Scottish regions!