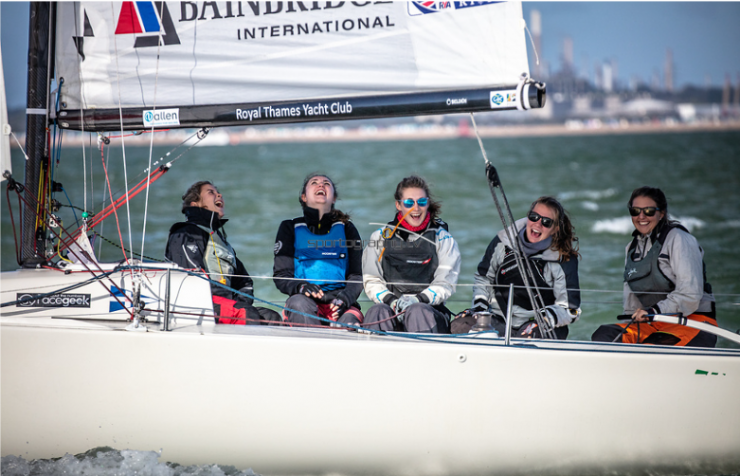 Women's J70 Open Championships
19th-20th September 2020
APPLICATIONS CLOSE 6th MAY 2020 AT 11:59pm
The Women's J70 Open Championships 2020 will be held from the 19th-20th of September from The Royal Thames Yacht Club, Cowes, Isle of Wight.
It is a fantastic opportunity for high quality competitive inshore one design racing, at the epicentre of British Yacht Racing, in the tactically challenging Solent.
BUSA will be contributing £300 to the entry of an all-female team of BUSA members to represent our association. The selection committee will be looking for an all-female team who will most benefit from the funding to attend the event. This may apply to your team in a number of ways; a few examples are:
You are a new development team, made up of females wanting to build experience in keelboat racing
You are an established team, looking for events to train together for a future campaign together e.g. Yachting Nationals or maybe an Etchells campaign.
Your team members have had little formal training opportunities before e.g. BKA/RYA pathway etc-Your university sports union doesn't normally financially support your sailing team
Entry for the event is £550 (for 4 persons) or £615 (for 5 persons) for the charter of a Royal Thames J70, Entry Fee, dinner tickets, and breakfast both mornings.
With funding from BUSA, the event cost will therefore be only around £63 per person (for a 4 or 5-person team)
To apply for BUSA funding:
Find 4-5 women to form a team – they must be BUSA members or part of a BUSA club, they can be from a combination of different universities or the same universities.
Read the event NOR and agree all team members are able to race
Read the BUSA notice of selection, and agree all team members are eligible for funding
Fill in the funding application form
Your team are responsible for entry and the remaining entry fee payment to RTYC
Following entry, BUSA will send the financial contribution to the team
Following Selection by BUSA:
More information about the event including current entry list and notice of race can be found on Yacht Scoring.
More information about application and entry contact:
BUSA keelboat officer; Cat Hunt on facebook or email.