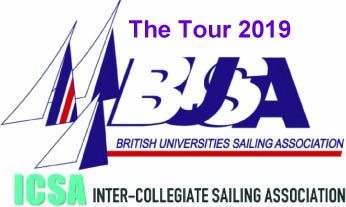 Latest News

The selected Squad announced on 21 April, 2019:

Males:


Females:
Murray Hampshire
Crispin Beaumont
Jack Hanslope
Matthew Whitfield
Tommy Darling
Joe Burns
Robbie King
Emma Baker
Jenny Cropley
Morgan Dibb
Phoebe Warren
Sophie Taylor









___________________________

2019 Tour - information & links

The BUSA tour is the Biennial Challenge between the Inter-Collegiate Sailing Association USA (ICSA) and the British Universities Sailing Association (BUSA). This time round, the challenge will be taking place in the US, namely the throughout New England and the Mid- Atlantic.
The challenge will be approximately 18 days long, where the BUSA team of 8 sailors will start in Boston and work their way down the east coast to DC, competing in 5 trophy events throughout the course of the challenge. The tour will also allow the BUSA team to compete in various ISCA college championships outside of the trophy events.
Applications are open to any university student at a club with BUSA membership (see further below)..
Events Dates: 4th - 23rd September, 2019"
*the dates are flexible to flight prices, and the team may fly out earlier or later within the first week of September.
Racing Format:
The tour consists of 5 trophy events:
- 2x 3v3 double handed team racing (firefly)
- 3v3 Laser team racing
- Keelboat match racing
- 2K Team racing
These will take place over weekdays of the course of the Tour.
The team will also compete in American collegiate events during the weekends of the Tour, including an ISCA fleet racing championship on the 21st – 22nd Sept
Team Format:
8-12 sailors, consisting of at least 20% male and 20% female.
Applications:
This online form must be completed and submitted by 31March 2019. Late applications will not be accepted.

For details on the selection process, please see the Notice of Selection

See further Tour Information here
See the Tour page for all current details and reports on previous editions.
If you have any questions, please contact the BUSA Men's and Women's Captains: Joe Burns & Hebe Hemming