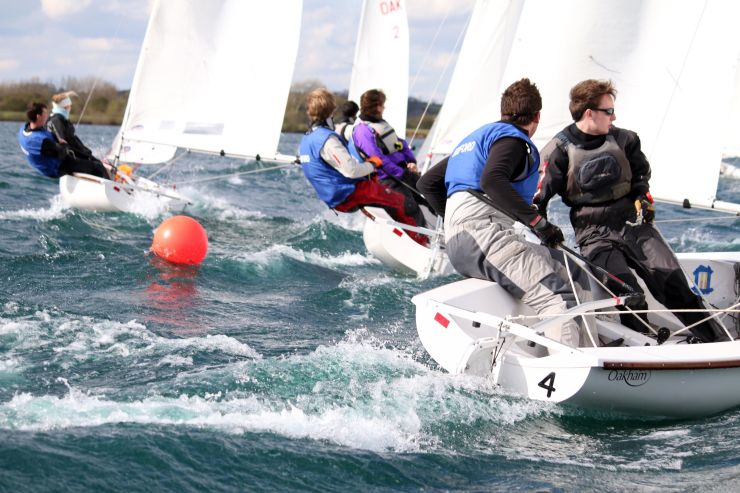 There were three days of intense competition during which the 28 university teams sailed 258 races, using the Swiss League system, leading to quarters, semis, petit finals and finals on a brilliant last day of team racing. It was hard fought and gripping to the very end for the spectators and those many following the race commentaries on-line. Cambridge Blue emerged as Champions, having been taken to the full five races in the Finals by Oxford Blue. In the Petit Final, Loughborough won the final races of the Championship to take the 3rd place overall, with Cambridge Yellow in 4th. The Irish team, from University College Cork, winners of the Irish University Sailing Association's Intervarsities 2015, was 5th overall in the Championship.
The British Universities and Colleges Sport (BUCS) Team Racing Championship, probably the largest team racing competition in the World, is organised by the British Universities Sailing Association (BUSA). The culmination of a year of training and competition, through the many inter-university events and then Qualifiers, Scottish Leagues and Playoffs, involving 500 sailors in teams of six from 37 universities, 168 of the elite of British university team racers came to Notts County Sailing Club for the Finals from 9th to 11th April. It was hosted by the University of Nottingham Sport Sailing Club (UoNSSC), in conjunction with Notts County SC, making an excellent, well provisioned and serviced venue, much appreciated by competitors and officials alike.
See Final Report, Full Results and Championship page.
We particularly thank Andreas Billman (UoNottingham Sport SC) and David Eberlin (Notts County SC) for uise of their great galleries of photographs.