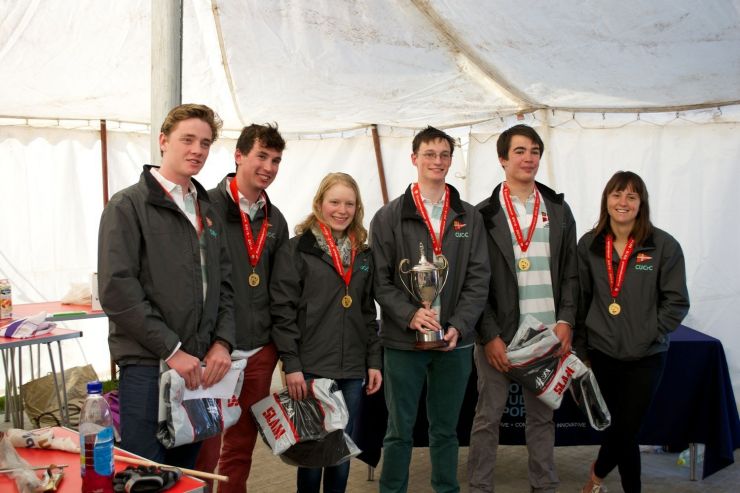 The culmination of a year of training and competition, through qualifiers, Scottish Leagues and Playoffs (involving 500 sailors in teams from 36 universities), 168 of the elite of British university team racers came to Strathclyde Loch, hosted by the University of Strathclyde Sailing Club, from 6th to 8th April for the Finals of the 60th British Universities and Colleges Sport Team Racing Championships (BUCS) 2014. The event was organised by the British Universities Sailing Association (BUSA), in conjunction with Strathclyde USC.
There were three days of intense competition during which the 28 university teams sailed hundreds of races in a league system, leading to quarters, semis and finals on a brilliant last day of team racing. Hard fought, and gripping to the very end for the spectators and the hundreds following the event commentaries on-line. Cambridge Blue emerged as Champions, having been taken to the full five races in the Finals by 2013 Champions, Bristol Red. In the Petit Final, Oxford Blue won the final race to take the 3rd place in the Championships, with Exeter Black in 4th.
Photos taken by Maritz Troll of Strathclyde USC and Sean Clarkson of Sheffield Hallam can be found in galleries on BUSA Sailing Facebook.
Two professional photographers were at the event on the final day:
Alan Henderson of www.fotoboat.com
and Marc Turner of www.pfmpictures.co.uk
We are particularly grateful to them for furnishing us with copies of some of their images, which are copyright, for editorial use. See Fotoboat's gallery.