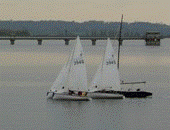 Congratulations to the team out on the water, it was a great display of team racing! The winners received a well deserved welcome back ashore and congratulations from all the teams, umpires and staff.



Steve tylecote commentary on the race "Nice start to the race from oxford, extra big effort from Southampton, close tack and cover but oxford are dominating as they go up the last beat. All they have to do is keep clear and they are going to do it! – BUSA Team Racing Champions are Oxford with a 3:1 score line!
OXFORD 1 WIN!
Matt Podger/Phil Derry

Stuart Adams/Ed Greig-Gran

John Platts-Mills/Federica Nocera
2nd Place – Southampton 1
James Large/Holly Hewat

Tom Sain/Katie Restall

Andy Shaw/Sarah Hickman
3rd Place – Exeter 1

Thomas Mallindine/Pete Matthews

Tim Saxton/Jodie Green

Elliot Parsons/Nicola Groves
Ladies Champions – Bristol 2
Charlotte Savage/Sarah Wickerdon

Helen Rollinson/Lindsey Noakes

Claire Walsh/Louise Fisher
2nd Place – Durham

Bryony Meakins/Hayley Goacher

Natasha Lister/Heather Jones

Olivia Petit/Magan Chamberlain
3rd Place – Bristol 1st

Hannah Tattersall/Emily Crow

Cicely Robinson/Sophie Newsum

Lucy Marriage/Harri Ayling
Updated 22/04/09 10.30
---
Update on Day 3:
After a hard night out, the competitors turned up early for a 9am start to utilise the wind conditions and get the maximum amount of sailing in on their final day. When the rain cleared and the wind settled everyone enjoyed some competitive quarter finals. Exeter 1 came first in the super gold, with Edinburgh 1 following their lead. In the gold fleet Durham 1 are in the lead followed by Oxford 1. Bristol 1 came 5th in gold and won the playoff against Bath.
Tensions are rising with the ladies league with Bristol 2 competing against Durham 1, and Bristol 1 Vs Southampton, with Bristol 2 coming 1st.
All competitors are on their seats in the Windsor Suite overlooking the racing whilst listening to expert live commentary from Steve Tylecote. The true competitiveness of this final is now showing, with tensions rising and the umpires in full swing.

By Tanya Budd. 17/04/09 14.50
---
Update from Day Two:
The finals kicked off at Datchet Water Sailing Club in perfect sailing conditions allowing everyone to get through a staggering 133 races in the first day. The mixed teams raced 3 leagues of 8 with Exeter 1, Cambridge 1, and Edinburgh 1 winning the respective groups. The Ladies league completed a full round robin, with Durham Ladies in the lead, closely followed by Bristol Ladies in 2nd place.
After a long day of sailing everyone relaxed enjoyed a social in the Windsor Suite enjoying the sunset over the reservoir, before an early start on Thursday. With the lack of wind on the second day, racing was delayed until 11am. The winners of groups completed super gold leagues, with Exeter's 1st Team claiming 1st place and Oxford 1 and Bristol 1 dominating the gold league.
The Ladies are in the process of sailing their second round robin, with Bristol Ladies 2 in pole position followed by Durham ladies. With the prospect of light winds, and tonight's UV Rave at Brunel University racing will start early tomorrow morning at 9am.
Everyone is looking forward to the Friday with live commentary from team racing legend Steve Tylecote, during the final stages of the competition. Chris Simon, the Chief Umpire for this event is in high spirits and said on the first evening's debrief "a lot of hard work has clearly gone into this event as it's one of the best run team racing event I've been to".


By Tanya Budd. 16/04/09 16.30
---
BUSA/BUCS Team Racing Championship 2009: Will the Queen be watching?
BUSA/BUCS Team Racing Championship 2009
Thirty-three university teams are all raring to go at Datchet Water Sailing Club for the 2009 BUSA Team Racing Championships this week. With a weather forecast for sun, showers and wind this looks to be another fantastic week for sailing.
The progression to the finals for some teams has been difficult, with some facing snow and ice and others a trip to the playoffs to win their slot at this prestigious event.
Ben Towell BUSA Chairman commented; "Firstly a big thank you to Tanya and the team at Datchet, who have pulled this event together along with the Inlands under challenging circumstances. This year promises to be a closely contested battle for the title and i look forward to congratulating the champions at the end of the week."
Will Southampton dominate the mixed and Cambridge control the Ladies championships again?
Watch this space.