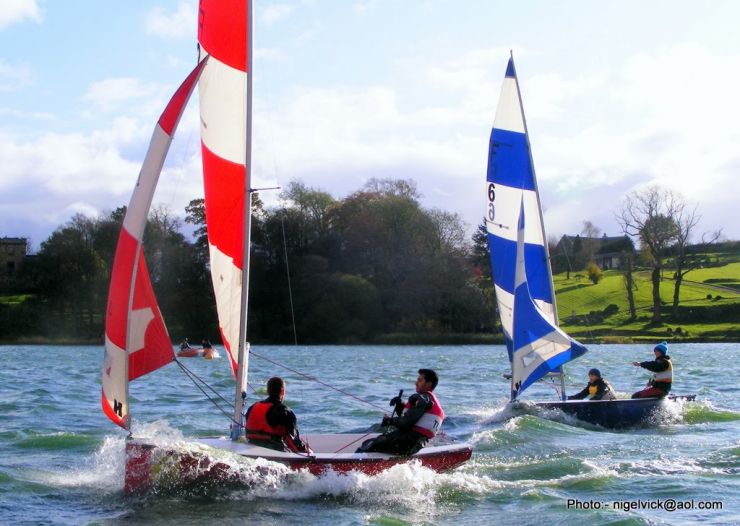 This year, with all 24 spaces being filled up in under a week the pressure was on for Glasgow University Sailing Club to pull off another well organised, well attended, well established team racing event. As ever the run up to the event saw lots of last minute repairs, towing and siphoning; thankfully, by Friday afternoon everything was ready to go. The forecast was vague which is characteristic for Bardowie, ranging from 5 to 25 knots over the weekend, However we ensured there were spare anchors, reefing lines and a light wind plan in place to tackle any conditions thrown at us.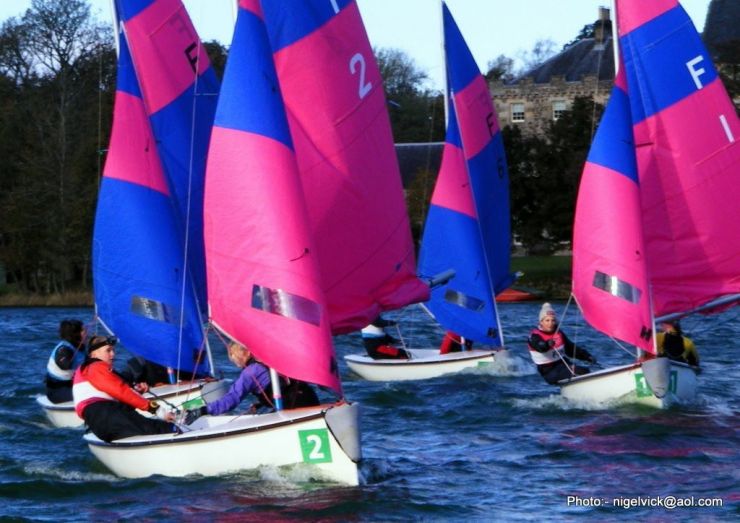 Taylor Trouble: Image taken by Nigel Vick
On Saturday morning we arrived to our reflections in a glassy Bardowie. Nonetheless, we got all 24 boats rigged and then settled down to watch the rugby with a bacon roll. Luckily as the last whistle was blown the wind appeared, everyone hurried out to the racecourse and the first race started just after 11:30. Due to shifty conditions the course management team had a hard morning but racing got off to a good start. Some big squalls were blowing through, in particular causing disaster at race 28 as the start and finish boats went for an adventure down the loch. This caused much confusion for the sailors who had just rounded mark 2 and were trying to work out where to go, eventually deciding on the start pin, round the pontoon and then mark 3, nobody finished and the race was resailed once the race committee boats were stacked with extra anchors.
Flying start: Image taken by Anna Protheroe We finished sailing for the day just before 5 with race 68 and everyone headed back to Glasgow to get their kilts on. The ceilidh was a success as always, with the band saying it was "the rowdiest ceilidh they had ever played". Despite the usual afterparty in A&E almost everyone made it down a much windier Bardowie on Sunday morning. Once reefs had been put in, we were off with UHI and Glasgow starting off Sunday morning, the best way possible, with race 69. Strong, stable conditions set the basis for some excellent races, creating some very happy sailors for the rest of the morning.
After getting through 140 races and many tie breaks, we moved into the quarter finals. Roast Potato, Edinburgh Green, St Andrews Blue, Baked Potato, Strathclyde Pink, Edinburgh Blue, Edinburgh Import and Distinctly Average battled it out as the wind died away. Again, following a quick postponement, the wind was on our side and as the light rapidly faded Distinctly Average beat Edinburgh Blue and Edinburgh Import beat Strathclyde Pink in some close semi finals. We squeezed in a last minute high stake, sudden death final and petit final as the sun set. Distinctly Average overcame Edinburgh Import in a 1, 3, 5, winning the final the final and Edinburgh Blue winning the all student petite final in a 1, 4, 5 to claim third placeand top student team.
Sunset Final: Image taken by Nigel Vick After a weekend of some very close racing the full results were as follows:
1. Distinctly (above) Average

2. Edinburgh Import

3. Edinburgh Blue

4. Strathclyde Pink

5. Baked Potato

6. St Andrews Blue

7. Edinburgh Green

8. Roast Potato




9. Exiles

10. QUB red

11. Strathclyde Yellow

12. Aberdeen Blue

13. St Andrews Pink

14. Unexpectedly Moist

15. Glasgow

16. DUSC Black




17. Strathclyde Red

18. Big Booty Bitches

19. Edinburgh White

20. Aberdeen White

21. UHI purple

22. The Good The Bad and The Iain's

23. QUB Black

24. DUSC Red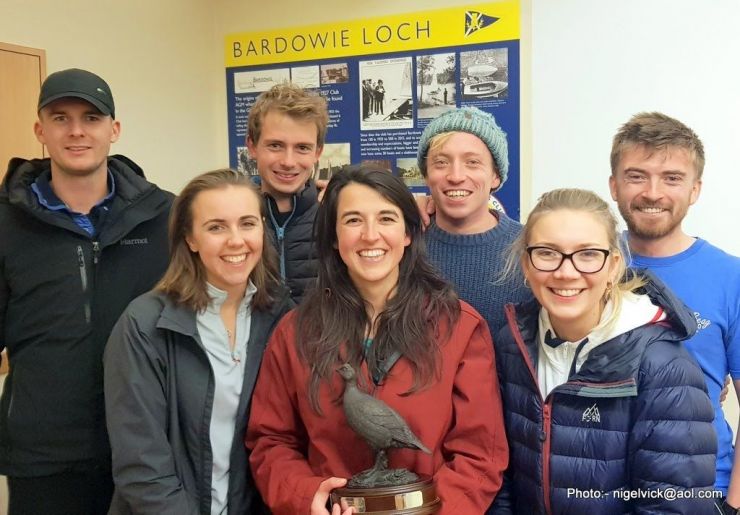 Winners of the 2019 Glasgow grouse: Distinctly (above) Average (Image taken by Nigel Vick)
We would like to thank everyone who made the event possible. Big thanks go to our PRO, Robyn Fitzgerald and our ARO, James Chapman who ensured racing all ran smoothly. Mike Voyt for getting all the results in as well as Ciaran McMonagle who expertly broke all ties that arose. Chief Umpire Nigel Vick for making calls and overseeing the umpire team of Martin Nichol, John McLaren and Valérie Ferratt. Big shout outs go to Sarah for patrolling the beach, Holly, Megan, Laura and Laura for putting in a shift and keeping us all fed with homemade soup and pasta as well as to all the helpers and volunteers who laid the course, manned the start and finish boats and ferried competitors to the pontoon and back.
And of course a few additional thank yous to our sponsors Bank Street, Sanctuary and Summer Sail Week as well as Clyde Cruising Club and Glasgow University Sports Association, whose support is vital for getting us all sailing