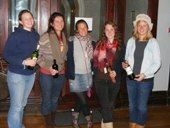 BUSA Match Race Qualifier One
The weekend of 25-26 October saw BUSA Match Racing Qualifier One take place at host venue Royal Northern and Clyde Yacht Club. Teams from all over Scotland made the journey for the chance to qualify for next years BUSA Finals to be held at Queen Mary Sailnig Club on the 4-5 April 2009. Winds consistently in excess of forty knots put a damper on all prospects of getting a round robin in on Saturday. With this in mind, chief umpire for the weekend, Alan Manuel very kindly laid on a short rules and tactics session for everyone present which proved to be very beneficial for some of the less experienced teams present.
Sunday greeted the sailors with a slightly different story; the winds had dropped slightly overnight although the breeze was forecasted to build throughout the day. The most notable change however was that winter had most definitely arrived with temperatures on Sunday as low as five degrees. With the impending forecast the decision was made to push racing forward as soon as possible with the hope of getting a full round robin in at the very least. With everyone reaping the benefits of an extra hour in bed, spirits were high and all competitors were extremely keen to get racing underway.
Match one got underway with Volvo RYA Keelboat Programme member Charlotte Lawrence and her all girl crew from Edinburgh University taking the lead from Glasgow B. The ladies team showed good timing and preparation in the pre-start which gave them the advantage off the line, this combined with their better speed and handling in the breeze gave them the edge clean around the course, an impressive achievement given they were the lightest team competing by some margin.
Match two saw Strathclyde B arrive rather late for the start against Glasgow A meaning they had a penalty to carry around the course whilst trying to catch Tristian McMillan and his team.
With the breeze steadily building as the morning went on racing became more and more spectator friendly. One of the more dramatic incidents being when the bow girl from Glasgow A; Rachael Cook decided to go for a swim during one of the pre-starts. With the racing becoming more intense, Edinburgh Ladies and Glasgow A appeared to have the boat handling nailed giving them a clear edge in the testing conditions.
The girls went into their last match tied on points with Glasgow A, with it all still to play for they were going to have to keep to their form in order to secure first place overall.
Racing got underway against Strathclyde A, helmed by fellow Volvo RYA Keelboat Programme member Chris Noble, in a steady 18 knots of breeze. Following a close pre-start Noble led off the line, keeping loose cover on Lawrence. After Edinburgh had closed the gap considerably, by forcing her opponent into a tacking duel, Strathclyde chose to break the cover and pursue the right hand side of the course, looking to get out of the spring tide and hook into some stronger pressure to come back into the mark on. A risky decision as chose to go left. One team had to get to the mark first and as both boats came back together on the laylines, it was Strathclyde that had extended, a lead they held until the finish.
Glasgow A also lost their final match meaning that on count back, Edinburgh Ladies had done enough to take first place. Unfortunately with daylight disappearing fast, only one round robin was completed but was still enough to constitute a series.
1st Edinburgh Ladies Charlotte Lawrence 4 Points
2nd Glasgow A Tristian McMillan 4 Points
3rd St Andrews Alex Ekstrom 3 Points
4th Strathclyde A Chris Noble 2 Points
5th Glasgow B Megan Baker 2 Points
6th Strathclyde B John Mill 0 points
Report by Chris Noble.
---
Six teams from 4 universities will battle in the first BUSA Match Racing Qualfifier for the 2008-09 season. Taking place at Royal Northern and Clyde Yacht Club in the clubs fleet of Sonars sailors will face testing conditions with the weather looking windy.
Teams entered:
| | | |
| --- | --- | --- |
| 1 | Charlotte Lawrence | Edinburgh |
| | Olivia Manser | |
| | Kate MacKenzie | |
| | Lavina Paternoster | |
| | Beth Young | |
| 2 | Chris Noble | Strathclyde 1 |
| | Niall MacLeod | |
| | Ben Howett | |
| | Elspeth Keating | |
| | | |
| 3 | Megan Baker | Glasgow 2 |
| | Gavin Dunlop | |
| | Peder Schimmell | |
| | Susan Coghill | |
| | Frederica Findlater | |
| 4 | Alex Ekstrom | St Andrews |
| | Ross Watson | |
| | Craig Paul | |
| | Alex Nicolson | |
| | | |
| 5 | Tristan McMillan | Glasgow 1 |
| | Roger Carter | |
| | Dave Donaldson | |
| | Rachel Cooke | |
| | Ali Beaton | |
| 6 | John Mill | Strathclyde 2 |
| | Tom Gabbot | |
| | Nicola Masey | |
| | Aonghais Rowe | |
| | | |
Full report and results to follow next week.
Remaining chances to qualify:
Q2 – 24/25 January @ QMSC
Q3 – 21/22 March @ QMSC
FINALS – 4/5 April @ QMSC