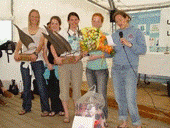 Charlotte Lawrence and her crew of fellow Volvo RYA Keelboat Programme sailors Katie MacKenzie, Maia Walsh, Hannah Kemlo and university teammate Lavinia Paternoster won the 2008 European University Women's Match Racing Cup in La Rochelle last weekend (23-25 May).
The championship was an Open event, not restricted solely to university crews, and attracted several highly-ranked match racers, including the world number four Silke Hahlbrock of Germany, in the 12-boat line-up.
Lawrence and her fellow Edinburgh University crewmates ? competing as 'Team Scotland' ? got off to a perfect start by winning all five of their round robin races, including a notable victory over Hahlbrock, on the first day. Their success was due on some very strong race starts, winning all of the pre-starts to set up comfortable victories.
Day two of the round robin brought several very close matches with some aggressive sailing required to offload pre-start penalties, most notably against the other British competitor Gemma Farrell. The Volvo RYA Keelboat Programme sailors also suffered their first loss against Julie Brossard's French crew after a closely contested match, picking up a penalty for a big collision as Lawrence attacked to offload an earlier penalty.
That proved to be their only defeat of the day and 'Team Scotland' won the round robin with a score of 10 wins and 1 defeat.
As winners of the round robin they got the dubious honour of choosing their semi-final opponent ? they picked Katherin Kadelbach from Germany, leaving Hahlbrock and Brossard to contest the other semi. Kadelbach promptly returned the 'compliment' by winning the start and sailing away to win the first race of the best of three race semi-final
But the British crew took the next two races comfortably to win the semi-final 2:1 and progress to meet Julie Brossard in the final.
After the fireworks of their earlier round robin match the final was a relatively calm affair. Brossard won the start of the first race but was passed on the first beat in a light and shifty breeze. In the second race Lawrence and her team won the start and took an early lead which, despite fraying nerves, they held to the finish to win the final 2:0 and take both the Open and University Championships.
Lawrence said: "'We are delighted to have won this event and it's been a real team effort with all the crew sharing the tactical workload to manage the boat round the course," said Lawrence.
"It makes the freezing cold keelboat squad winter training weekends on Queen Mary reservoir all seem worthwhile!"
Final Standings:
1. Charlotte Lawrence GBR
2. Julie Brossard FRA
3. Silke Hahlbrock GER
4. Katherin Kadelbach GER
5. Maria Ramires POR
6. Gemma Farrell GBR
7. Catarina Carvalho POR
8. Mary O'Loughlin IRL
9. Anna Caroline Kjellgren SWE
10. Marine Pailloux FRA
11. Margan Fountaine FRA
12. Joana Matos Rosa POR