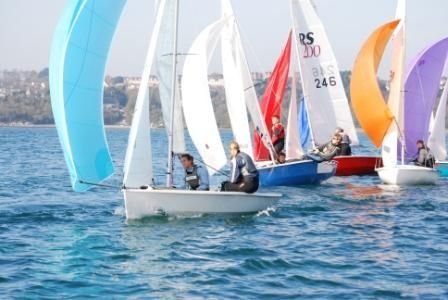 Perfect conditions greeted the students at the Mount Batten Centre in Plymouth for the first University Championships of the season.
Sailors from Exeter University fought hard to retain their title, beating off fierce competition from Plymouth University. After six races for the Fireflies and Laser 2s and five races for the Handicap and Laser fleets, only one point separated the top two teams.
Racing was especially tight in the Laser and Laser 2 Fleets. Swansea University's Dyfrig Mon and Emily Craig managed to win the Laser 2 fleet after tying on points, from Brunel University's James Thomas and Tom Clapton. In third place, but only a point behind the top two teams, was Exeter University's Ben Muskett and Mike Wood.
The Laser fleet racing was dominated by Stuart Godwin from Bristol University, who won 3 of the 5 races. Stuart also takes the title from his brother Robert Godwin, who won the Trophy in 2009 and 2008, for Nottingham University. On joint points in 2nd and 3rd place was Oscar McVeigh from Plymouth University and Matt Reid from Southampton Solent University.
In this year's Handicap fleet, the dominance of the RS200 was broken by Exeter University's Matt Rainback and James Rushden who sailed their 29er into 2nd place, missing out on the top slot by 3 points to Southampton University's Ben Saxton and Holly Scott in their RS200. In 3rd place were their Southampton team mates, Stevie Tiernan and Tim Goodhew in their RS200.
Plymouth University's Pete Johnson and Lucy Hoyte and James Hopson and Izzy Gill-Taylor finished a disappointing 2nd and 3rd in the Firefly Fleet. For Pete Johnson, this is becoming a habit after coming 2nd last year at QMSC. Consistency was key, for the winners from Exeter University, Tim Saxton and Sophie Ormsby. Tim Saxton commented that the event was "well run, at a great venue, we've had a great time. Racing was intense and the Race Officers did a great job in difficult conditions."
Thanks go to BUCS for supporting this event and to all the volunteers at the Mount Batten Centre, the University of Plymouth and Plymouth University Sailing Club from BUSA.
Full results are available on the BUSA website, Downloads page.
---
200 sailors have had a wonderful sunny day on the water, completing all three scheduled races! Results for all fleets are now online on the Downloads page.
More to follow tomorrow, with photos.
---
All Sailors must complete a medical form and all Team Captain must bring the signed Acknowledgement of Risk form (both avaialble to download on the Downloads page).
Full Programme is also now available on the Downloads Page, with registration and social timings and details.
SUBS Reminder: The following teams who are competing this weekend are reminded that they will be asked to pay their clubs annual subscription fee at registration. Bristol University, Falmouth University, Nottingham University, Portsmouth University, University of the West of England.
---
A List of entries is now available on the Downloads page: http://www.busa.co.uk/dyn/masterbusafleetracingentries2-11-10.pdf
For details of the socials organised by Plymouth University for Friday and Saturday nights, please go to the BUSA Sailing Facebook page.
---
6-7 November 2010 at Mount Batten Centre, PLYMOUTH
Entries: The SAILING regatta is open to all boats of the following classes:
Laser (Inc Laser Radials)
Laser 2
Firefly
Handicap Class – Monohull dinghies with Portsmouth Yardstick Numbers 1200 and below. (No Keelboats or Multihulls).

All craft entering the event must be in a good state of repair and adequately prepared for winter sea sailing. Any craft deemed by the Race Committee to present a danger to its crew or the event may be excluded.

Eligible boats must enter by using the online booking system through their Athletic/Sports Union.



Information required for entry:

Helm/Crew names

Fleet entering

Class of boat (Handicap)

Sail number

PY number

No entries will be accepted after 5 p.m. Thursday 21 October 2010. No late entries will be accepted.
Registration: Registration will take place on Friday 5 November 2010 between 1600hrs ? 1800hrs and on Saturday 6 November 2010 between 0830hrs ? 0930hrs. All competitors must attend produce their university registration / library / matriculation cards to prove their student status. NUS cards WILL NOT be accepted as proof of eligibility to compete.
NOR and Accommodation list are on the downloads page.
Sailing Instructions: A copy of the Sailing Instructions will be available at registration to all competing crews and may be published on the BUCS and BUSA websites the week before.
BUSA Sailing Subscriptions: All clubs must be members of BUSA Sailing. Entries will not be accepted until Subs are paid. Subscriptions are due by the 1st November 2010.
DON'T FORGET: SAILING KIT (A wetsuit or dry suit is REQUIRED) AND YOUR BOUYANCY AID OR LIFEJACKET!!!!
If you have any queries regarding the event please do not hesitate to contact me.
Jessica Beecher

BUSA, RYA House, Ensign Way, Hamble, Southampton, SO31 4YA. Tel: 02380 604 167 E: jessica.beecher@rya.org.uk