A slightly different summer period has provided more time for thought and consideration over what BUSA currently offers and what we would like to support more moving forwards. One of the key focuses of this years committee has been inclusion and development. This week, we have shared a variety of different posts sharing information, resources and videos highlighting the many great benefits associated with your university club becoming more inclusive for students with disabilities.
On day 1, we began highlighting some of the great content on the RYA Sailability youtube channel – check out this video featuring one of our very own university sailors at the University of Birmingham.
Video platforms are becoming more frequently used during the pandemic so it is well worth your time having a browse over some of the webinars and sailor stories on the channel. While you're there, have a look at our channel where all our webinars will be posted.
On day 2, we shared our Inclusive Sailing Guide. Have a scroll through, save it and share with your committee. Even if you don't use it straight away, it will be a valuable resource moving forwards for your club. Within the guide theres an expanse of contact information and guidance for setting up your own inclusive sessions, referring students to a local Sailability club and volunteering with a club or a joint BUSA/Sailability initiative.
On day 3, we focused on volunteering. Getting involved with the Sailability Club at your host club could be hugely rewarding- and you could help out with a group of your USC friends. As Joff McGill (RYA Sailability Manager) highlighted in the webinar, we all sail for the same reason. freedom and just being out on the water. By volunteering, you could have the opportunity to help offer this to someone else for the very first time. We also are running regional Team Racing Camps next year, and are on the hunt for seasoned team racers keen to get involved and help run the sessions. Get in touch with Karen Thomas if interested.
On day 4, we shared our 'Try: Sailing poster' all university clubs can use during virtual & in person fresher/sports fairs. The infographic summarises what students joining the university can get involved with from getting on the water for the first time to competing at our BUCS Fleet Racing Championships (with the possibility of gaining your university BUCS points). Send this on to your Student Union Disability Officer also as they likely will have an email list of all the students this resource is applicable to.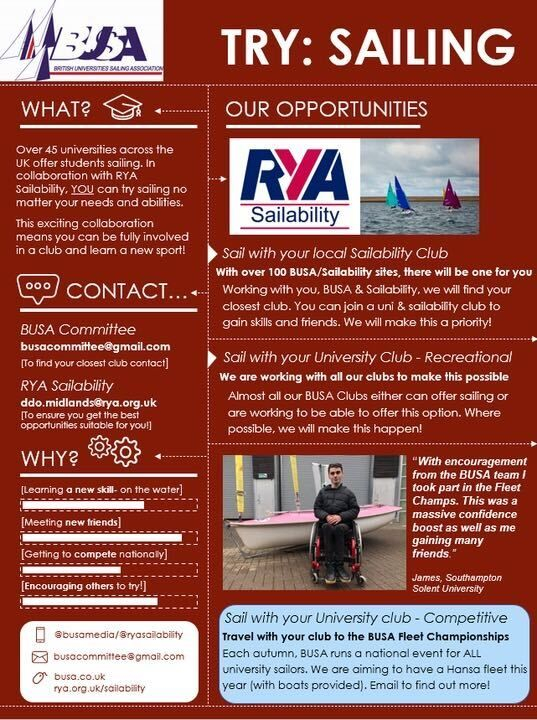 And finally, to bring all our resources together over the week, we were joined by several of the RYA Sailability team for the very first of our BUSA Webinar Series.
Put some time aside before term starts to listen in and find out exactly what the next steps are in this exciting partnership. If you haven't received an email today with details of your closest Sailability Club and regional Disability Development Officer, please send an email so these resources can be passed on for you to start making the most of the available expertise RYA Sailability are offering our clubs.