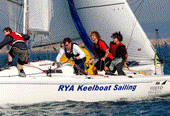 There will be an Open Selection Event for GBR teams wishing to be selected for the FISU World University Match Racing Championships in Italy in June/July. Event will be held at QMSC, near Staines on the 15th/16th February 2014 in the Royal Thames YC J80s.
Teams wishing to be selected can be from any university who are members of BUSA. Sailors who graduated in November 2013 can also apply. For all details, please read the Notice of Selection.
Entries must be received by 12.00pm on the 20th January 2014. Teams wishing to be selected MUST send in comprehensive sailor CVs with the entry.