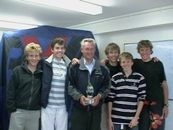 Team Goodchild comprising Sam Goodchild, Jonty Cook, Tom Altmann, Rory Spriggs and Nicholas Wilkinson are the new RYA National Match Racing Youth champions for 2008.
The quintet wrapped up the RYA National Match Racing Youth crown in style at Weymouth and Portland National Sailing Academy (WPNSA) over the Bank Holiday weekend by not dropping a race over the three days and Goodchild's team is now in pole position to represent Britain at the prestigious Governor's Cup in America next summer.
Seven teams from across the country plus the Netherlands travelled to WPNSA to take part in the Championships for sailors under 20 on 31 December, knowing that not only was the chance to compete at the 2009 Governor's Cup International Junior Match Racing Championship in California at stake but also a place in the RYA National Match Racing Series Grand Final in October.
With a long weekend of racing scheduled, sailors headed afloat early on Saturday morning. Leading from the start was Team Goodchild, closely followed by Mark Lees' team who won five out of six of their races. Also doing well at the halfway stage, winning four out of six, was Gareth Henshall, whose outfit have been training at Plas Menai in the build up to this event.
The all-girl Dutch team, led by 17-year-old Marjolein Hufen, also started well winning three out of six races in their first match racing event.
Sunday saw the completion of the double round robin and the start of the semi-finals before the main event of the finals took place on the third and final day on Monday.
The 5th/6th playoff between the teams led by Joanne Lucas and Hufen went to four matches (first to three points) while the Petit Final between the teams skippered by Owain Matthews and Mark Lees going to five matches, West Kirby's Matthews coming from 2-0 down to win out 3-2 in a nail-biting thriller.
However with Goodchild's crew taking no prisoners in the first two days' of racing, the 18-year-old Volvo RYA Keelboat Programme talent was not about to fall at the final hurdle and the quintet were equally clinical in completing a 3-0 Final clean sweep over Henshall to claim the RYA National Youth title.
Goodchild and Henshall will now be invited to take part in the Series Grand Final at WPNSA on 10-12 October.
Event Director, John Burgoine said: "For many of the sailors this was their first experience of match racing, so we hope that they had a positive experience and leant a lot. I hope to see them all either next year or in some of the upcoming qualifiers."
Meanwhile, entries are still being welcomed for the RYA National Match Racing Series qualifier four, which takes place at WPNSA on 4-5 October. For more details contact jessica.mapplebeck@rya.org.uk
2008 RYA National Youth Match Racing Championship results:
Sam Goodchild, Jonty Cook, Tom Altmann, Rory Spriggs, Nicholas Wilkinson
Gareth Henshall, Lewis Roberts, Rob Forshaw, Toby Collinson, Henry Collinson
Owain Matthews, Matt Shepherd, Will Shepherd, Oliver Owen
Mark Lees, Shane Terry, Sam Garforth, Josh Irons, Sam Clements
Marjolein Hufen, Rosanne Malschaert, Jildau ter Horst, Liese Schram, Fleur Sneijers
Joanne Lucas, Dan Bigsby, Julia Beck, Lawrence Killham, Tom Francis, Charlotte Bonella
Harry Harding, Andrew Rawson, Liz Foreman, Amy Foreman, Stephanie Macauley
ENDS
Karenza Morton

RYA Racing Communications Officer

T: 023 80 604219
M: 07769 505203