University Sailing Sustainability Challenge The Green Blue (link here)
ABOUT THE CHALLENGE
The challenge involves USCs across the UK undertaking as many sustainable actions as they can throughout the academic year following set criteria for the Bronze, Silver, Gold and Platinum Award levels. In the first year of entry to the challenge, clubs aim to achieve the Bronze Award criteria, followed by the Silver and Gold Award levels in subsequent challenge years.
HOW TO GET INVOLVED
For more information and to enter your University Sailing Club into the challenge, which begins in September, contact The Green Blue team at environment@rya.org.uk.
WHAT KIND OF SUSTAINABLE ACTIONS HAVE TO BE ACHIEVED?
Ensuring sailing venues have a Spill Kit available to clean up any accidental oil and fuel spills.
Raising awareness of sustainable boating best practice through social media.
Displaying awareness materials at the USC sailing venue e.g. posters and green boating guides.
Eliminating single use plastics e.g. ensuring re-usable sports bottles and coffee cups at training sessions and events.
Undertaking an environmental assessment of the USC sailing venue to identify where facilities and operations can be improved.
Following the Check Clean Dry approach to removing harmful Invasive Non-Native Species from boats, equipment and clothing.
HOW TO FOLLOW THE 2023-24 CHALLENGE
See what participating university sailing clubs have done in past challenges and cheer on the University Sailing Clubs through the current challenge by following: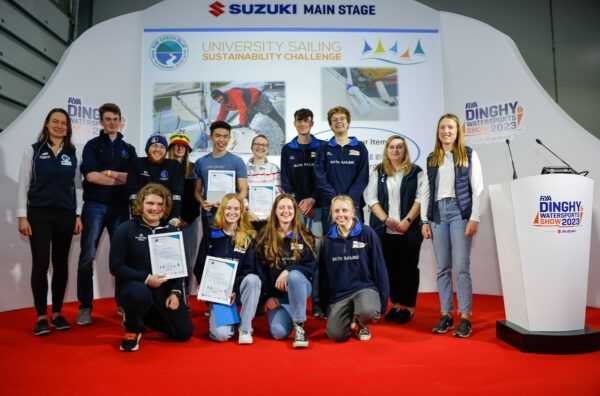 Supported by British Universities Sailing Association (BUSA), the challenge was launched in 2015. The success of the challenge has seen it continue into its 9th year, with many USCs from different parts of the UK actively participating year on year. All USCs that achieve an award are invited to the Awards Ceremony at the RYA Dinghy Show where they are presented with certificates and prizes from our challenge sponsors, Rooster.