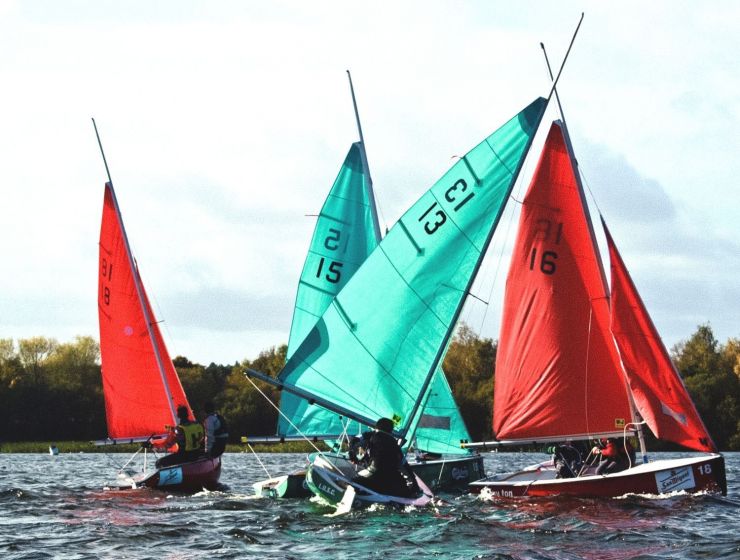 Thirteen British University teams converged on Leeds and West Riding Sailing Club for the first of the season's student team racing events on that will run through to next March. In addition to the strong turnout from northern universities – Lancaster, Newcastle (2 teams), Sheffield (2), as well as Leeds Freshers and Leeds Old Boys – teams travelled from as far as the University of West of England (UWE) at Bristol, Cambridge (2) and Nottingham (3)
This event was wholly run by the Leeds University Sailing Club, which is sponsored by AmeriCamp.com and First40Charter.com. A team of fifteen volunteers was led by Commodore, Ali Sims, who acted as OOD. The racing itself was managed by members of the Committee, together with two experienced Umpires. Wakefield Sea Cadets drove additional RIBs they supplied so as to ensure smooth changeovers on the water.
Sunny weather and a fair breeze on Saturday set the tone for the event. By the end of sailing on the first day, 45 races of the Round Robin had been sailed. The Cambridge, and two of the Nottingham, teams were heading the leader board on average scores. A further 33 races of the Round Robin were completed on Sunday, before Semi Finals and Finals. Cambridge Pink beat Nottingham 1 in the first of the semis, and Cambridge Blue, the Leeds Old Boys. In the all-Cambridge Final, the Blue team had the edge.
See Full Report.
Coverage also on Yachts & Yachting and Sail-World.
A Photo Album may be found on BUSA Facebook.