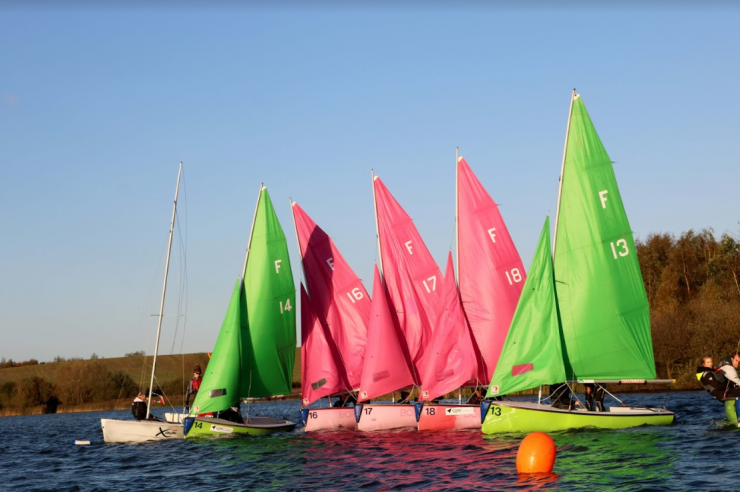 Last weekend, 21 teams travelled to Leeds from across the country to kick off the team racing calendar for 2019/20 at the inaugural Halloween Howler event. 10 different universities and a smattering of alumni teams made an appearance for a weekend of racing in a classic Northern mix of both glorious and miserable conditions.
The Friday night was kicked off with the ever reliable Fruity social, where good times were had by all at their Halloween Spooktacular event. Saturday morning saw the beginning of a torrential downpour, where close to a month's rain fell in a 30-hour period. This rain dampened the wind forecast and a soggy 44 races were carried out in a gentle breeze. The race committee worked hard to ensure the races carried on despite course alterations and boat breakages, but there wasn't much that could be done about the flooding!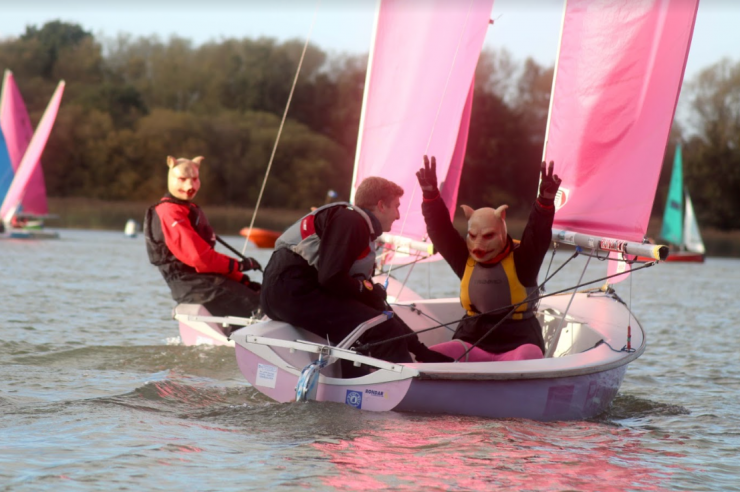 To lift our spirits, we shepherded all 21 teams for the famous Howler curry social, taking place in the notorious and revered establishments of Akmal's Tandoori Bistro and Hunan's Chinese Buffet. After much curry, chanting, fining and debauchery we set off for the Union bar and then onto Mission club in town – after the miserable conditions we'd seen all day, 'Grim Up North' was an apt name for the event!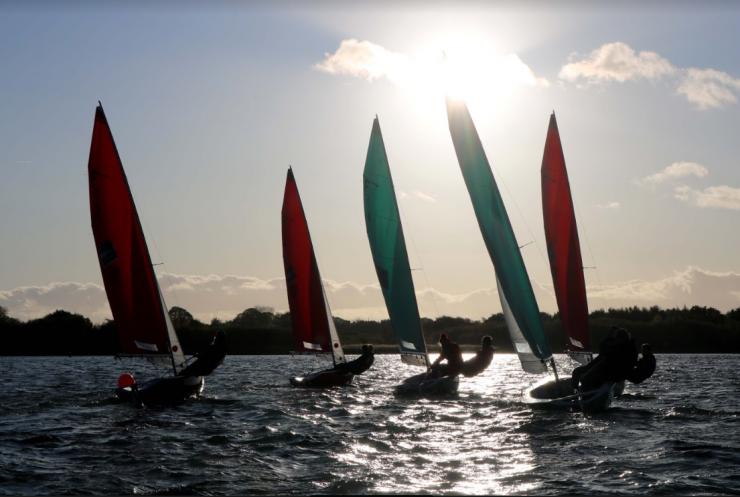 Feeling relatively bright and breezy on Sunday morning, refreshed after an extra hour's sleep (or an extra hour in Mission!), the weather cleared up and we were graced with a day of fantastic wind and stunning sunshine. Racing got underway emphatically and in total just shy of 100 races were completed before the cream of the crop entered a dramatic semi-final playoff. The top 4 teams – Newcastle Blue, Loughborough Purple, Sheffield Yellow and Leeds Oldies battled it out in the setting sunshine, with Newcastle Blue emerging victorious after a tense 3 races with Loughborough Purple in the finals.
As well as extending a huge congratulations to Newcastle Blue for their victory, we would like to offer our sincerest thanks to all the teams who came along and made it such a great event, and to our umpires, sea cadets and caterers who help facilitate the Howler every year. We would also like to thank everyone from Leeds whose time and dedication make the Howler run so smoothly.