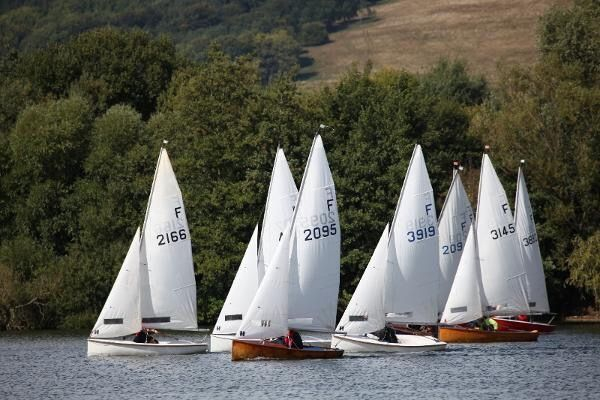 Firefly Inlands 2019, Rutland Water
The National Firefly Dinghy Inlands were held at Rutland Sailing Club on the 5th-6thOctober 2019. Saturday morning saw a civilised start time of 10:30am, with all 27 boats taking to the start line in what would prove to be beautiful sailing conditions. A steady 9 knots easterly breeze filled in by mid-day and led to some great tactical manoeuvres at the top of the fleet and very close racing in the mid-fleet. Three races were organised on the Saturday by Rutland SC race committee, giving all the budding firefly sailors plenty of time out on the water.
There was a great turn out from university students at the event, with representatives from Leeds University SC, Sheffield Hallam University SC and Nottingham University SC. The current students were joined by alumni of Birmingham and Nottingham University and a great turn out from Oakham School.
With four boats entered, Nottingham sailed exceptionally, with Fresher helm Rory Odel winning the prize for first institution boat in 9thplace. Hannah Thompson, Commodore of Nottingham University SC and crew of the leading university boat, shared her thoughts on the event.
"Despite it only being the second weekend of term, we manged to send 4 boats of keen sailors to inlands this year. All 8 sailors had an excellent time, enjoyed the competitive racing always present at Firefly opens and the exciting conditions on Sunday! Despite being overpowered on Sunday, all of our boats managed to stay upright with some very safe gybes and leg killing hiking. We were very grateful to have won first university team and to take away some new rope to be put to good use on our boats. Overall it was a great weekend for Nottingham and a promising start to a hopefully successful year! Thank you to the NFA members who lent sails for our boats!"
Sunday dawned with a strong breeze, a stiff 16 knot northerly wind blowing in throughout the day with gusts of 26 knots, leading to several boats turtled. The strong winds really demonstrated the speed of the Firefly dinghy and how much fun they can be. An excellently laid course saw some fun reaches, with more than a couple of boats realising how easily the boats can nosedive. The level of sailing displayed by all participating was fantastic to see and everyone performed exceptionally in the strong winds.
The second race on Sunday was postponed due to an increase in wind strength and eventually racing was abandoned. Paul Kameen and his nationals winning crew, Evie Snedker, representing the University of Leeds SC, took victory at the event.
Results can be found online here
Thanks to Rutland Sailing Club for hosting and to the National Firefly Association for their organisation of great event. Fingers crossed for an equally strong student representation at the next inlands.
Article written by Joshua Speakman-Lowe