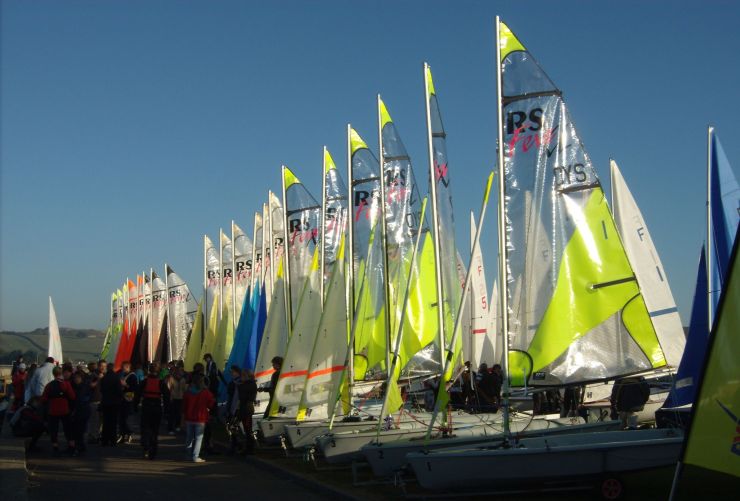 A colossal 288 young sailors will descend on Oxford Sailing Club, Farmoor Reservoir this weekend (15-16 October) as they commence battle for the coveted RYA Eric Twiname Youth and Junior Team Racing Championship titles.
This annual event, one of the highlights of the RYA's Racing calendar, is set to be an exciting weekend with team racing providing the nation's young sailors the opportunity to develop their boat handling, rule understanding and team work whilst racing in a fun yet competitive arena.
A maximum of 24 teams consisting of six sailors in both the Junior and Youth fleets will take to the waters of Farmoor Reservoir. For some of the young sailors this will be their first experience of competitive team racing while for others this will be a fierce encounter as they seek event victory and the all-important Championship title.
Team racing is exciting and sociable in which a team of sailors work together to try and establish an overall winning combination. One race typically lasts for about ten minutes but each team usually gets to do between 6 and 16 races during the regatta, with an approximate 250 races scheduled for this weekend. As well as being an exciting form of sailing in its own right, team racing helps to sharpen up many useful fleet racing skills, especially close boat on boat tactics and is also a great transitional step between fleet racing and match racing.
With entries open in the two age groups, under 16 (Junior) and under 19 (Youth), to teams of six sailors, the line-up of young aspiring sailors spans a vast variety of abilities.
Tim Hall, RYA Competitions Manager/Event Director, commented: "This year the RYA Eric Twiname Youth and Junior Team Racing Championships has proved really popular with entries selling out fast. With the event full to capacity yet again, and with the young sailors improving year on year, Farmoor Reservoir is set for a thrilling weekend of Team Racing.
"There is a real mixture of teams this year, some who are venturing out onto the team racing circuit for the first time while for others team racing has now become second nature. It will provide the newcomers with a great opportunity to develop their racing skills whilst enjoying sailing in a fun yet competitive environment. For the more experienced teams, the weekend will hopefully offer some great sailing conditions and the chance for them to really prove they have got what it takes to be crowned champions. The charge for the title is set to be fierce and I am sure it will go right down to the wire," explained RYA's Competition Manager.
Hall concluded: "The overall aim of the event is to create a fun, safe environment for the young sailors to really enjoy some competitive team racing. It will be the perfect opportunity for the youngsters to learn as much about team racing as possible whilst also developing key skills including communication, planning and team work which are essential across all types of sailing. A full Umpire team are on hand throughout the event offering support and advice as well as umpiring the races."
In the Youth fleet (under 19) which is raced in Fireflies, West Kirby Sailing Club were crowned champions for the third year running at the 2010 Championships and will be eager to defend their title for an incredible consecutive fourth year. However, with this in mind rival teams will be determined to throw them off course and put an end to their dominance by claiming overall event victory this weekend.
'Bluefin' were crowned 2010 Junior Team Racing champions for the first time as they competed in Feva's. Will the under 16 sailors from Burghfield, Cardiff Bay and Penarth be able to retain the title for a second year running or will there be a new champion in the making? With a strong line up announced in the under 16 fleet, it is set to be a thrilling encounter as a number of teams will be vying for success.
Teams competing in the Junior (under 16) fleet:
Parkstone Lasers (Parkstone YC)
Oxford Pirates (Oxford SC)
Maidenhead (Maidenhead SC Youth)
Team Extreme (Dabchicks SC, Royal Lymington YC, Restronguet SC)
Spinnaker Flying Shrimps (Spinnaker SC)
NSSA Fevas (National Schools Sailing Association)
West Kirby Ospreys (West Kirby SC)
West Kirby Eagles (West Kirby SC)
Norwich School (Norwich School)
Cardiff Bay Yacht Club (Cardiff Bay YC)
Ty Bach Dynamite (Cardiff Bay YC, Teifi Boat Club, Llandegfedd SC)
Mirrorcle (Poole SC)
Bluefin (Penarth YC, Burghfield SC, Cardiff Bay YC)
Claires Court A (Claires Court School)
Chester (Chester SC)
South Staffs Juniors (South Staffordshire SC)
Parkstone Toppers (Parkstone YC)
Ardingly C (Ardingly Prep School)
Here Come The Girls (Queen Mary SC)
Lymington Oppie Girls (Royal Lymington YC)
Sevenoaks School A (Sevenoaks SC)
Helensburgh (Helensburgh SC)
Port Dinorwic Pirates (Port Dinorwic SC)
Ever Hopeful (Emsworth SC, Wraysbury Lake SC)
Teams competing in the Youth (under 19) fleet:
420 Team (Bury Lake SC)
Rutland Raiders (Rutland SC)
Magdalen College School 1 (Magdalen College School SC)
Magdalen College School 2 (Magdalen College School SC)
RGS Guildford (Royal Grammar School Guildford)
West Kirby Youths (West Kirby SC)
Norwich School (Norwich School)
Spinnaker Pirates (Spinnaker SC, Emsworth SC, Royal Southern YC)
NSSA Youths (National Schools Sailing Association)
Cadet (Royal Lymington YC, South Cerney SC)
South Staffs Youths (South Staffordshire SC)
Dev Squad + Ollie (Hayling Island Sailing Club)
Ardingly A (Ardingly College)
Ardingly B (Ardingly College)
Sevenoaks School A (Sevenoaks School)
Sevenoaks School B (Sevenoaks School)
Helensburgh (Helensburgh SC)
Hayling/Torbay (Hayling/Torbay SC)
Oakham School A (Oakham School)
Oakham School B (Oakham School)
WOSC Warriors (West Oxfordshire SC)
Almost Ready