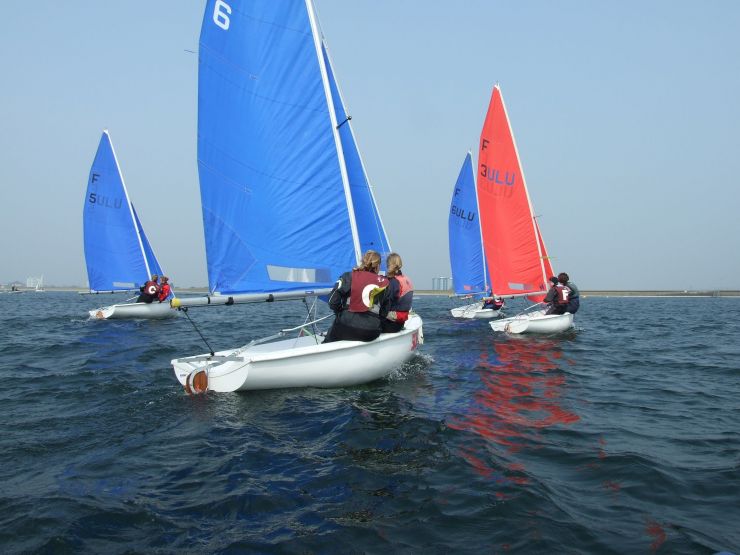 After the success of RYA Team GBR at the ISAF Team Racing Worlds earlier this year, the RYA Team Racing Group would like to announce the dates for the 2012 Team Racing Development Training.
Team Racing is a major part of National and International Racing. In the UK Team Racing takes place at all levels with activity focussed on events for post Youth sailors in a thriving open circuit as well as in keelboats.
To support this activity the RYA runs a two-part programme to develop and strengthen the skills of sailors aged 18 and over, with the aim of providing these sailors with the ability to:
1. Participate effectively on the UK Open and University Team Racing circuit.
2. Develop and strengthen the skills necessary to compete successfully at top level nationally and internationally.
3. To be selected for the RYA Development Team Race Teams for national and international events.

The RYA Team Racing Development Training programme is open to all sailors aged 18 years and above who have a good background in team racing. Teams of six sailors are requested to apply altogether. Entries are now open online via the RYA website with an entry deadline of Tuesday 31st January 2012.
The programme is made up of two stages:
Stage 1: Development Training – 18/19 February 2012 at Oxford SC and West Kirby SC.
Aim: To provide two days of intensive team racing skill training for those who are currently participating in UK Open and/or University Team Racing. This Training takes place over two days at Oxford SC and West Kirby SC (Liverpool). Coaching will be provided by top GBR Team Racers. This training will be used to select teams for Stage 2.
Stage 2 RYA Selected Team Race Training – 10/11 March 2012 at Oxford SC.
Aim: To enhance the skill base of the best Team Racers so that they can improve competition performance. This will be done by the RYA providing two weekends of intensive team race training for the sailors within the programme (at Oxford). World Class coaching will be provided by RYA Team GBR Team Racers.
Jamie Marston, Chair of the RYA Team Racing Group, commented: "The Team Racing Development Training programme promises to be two fantastic weekends where likeminded people come together to develop their skills and knowledge of Team Racing. Sailors will be given the opportunity to improve the more complex skills which are essential when racing at the highest level. The weekends will involve specific sessions on helm and crew responsibilities, team racing management, specific tactics when starting as well as up/down wind management.
"The programme offers a real opportunity for team racers around the country to take the next step in following the ultimate dream. This is a must attend event for any aspiring sailor who wants to make it to the highest level of team racing. I would recommend booking a space as soon as possible as I am sure spaces will be limited."
For more information and to enter online please visit http://www.rya.org.uk/racing/teamracing/Pages/teamracingdevelopmentprogramme.aspx
Entry form
NOTE: Places are still avaiable 18/01/12