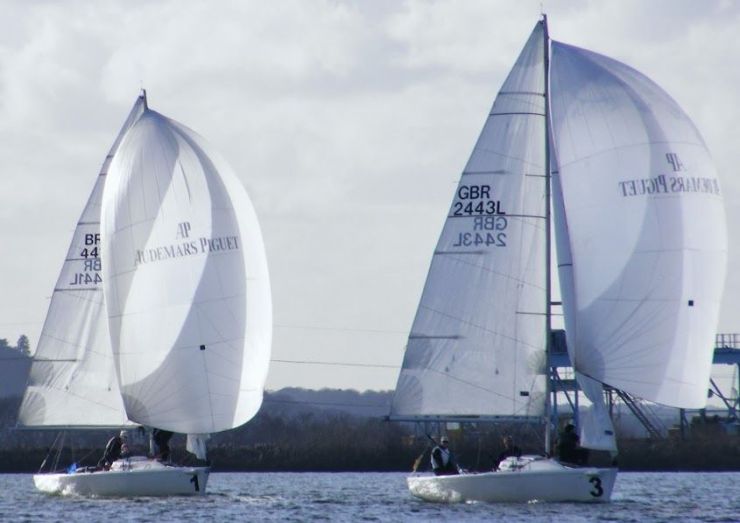 The FISU (International University Sports Federation) World University Match Racing Championships are to be held on the Lago di Ledro, in Italy on the 29th June to 5th July 2014. The British Universities and College Sports (BUCS) invited the Royal Yachting Association (RYA) to nominate teams for the event.
The sailors have been nominated (pending eligibility checks and invitations from the Organising Authority) based on their performance at the recent RYA National Match Racing Qualifier 1 on the 15/16th February at Queen Mary SC, where they raced against Ian Williams (currently ranked No.2 in the world), and Mark Lees (currently ranked 29th in the world) and from their sailing cv's and interviews.
Representing GBR 1 are Nick Wilkinson (Bristol), Fergus Barnham (Portsmouth), Fred Brown (Bristol) and Robbie Hooper (Bristol). Nick commented, "It was a great selection event. I'm really pleased the selection process allows us 4 months of training with the other teams. We have plans to sail in all the UK events possible between now and the worlds.
After competing in the European University Match Racing Championships last year in Ledro, I guarantee it will be a great event from a racing perspective. The club looked after us really well and, although light, the conditions were ideal for the J22, so we got some great racing. My new team, Robbie, Fred, Ferg and I are looking forward to the competition and hoping to regain the title for the UK".
Representing GBR 2 are Connor Miller (Loughborough), Mike Matthews (Loughborough), Harry Houlding (Portsmouth) and Bruno Van Dyke (Southampton Solent). Although a relatively new team to match racing, they have a wealth of experience and showed potential and professionalism at the selection event. Connor has grown up sailing 420's, J22's, J80s and team racing, winning a silver medal at the ISAF Youth Team Racing Worlds in 2011. Connor is joined by winning crew, Bruno van Dyke (bow) who won the Eurosaf European Match racing Championships in 2013.
For the first time the RYA have nominated a women's team to attend the Women's Championships, which runs alongside the open event. From Southampton University we have selected Annabel Vose, Emily Nagel, Amy Prime (graduate) and Hannah Peters (Royal Holloway). Annabel has been wining events both nationally and internationally for many years. Her titles include 420 Ladies World Champion (2011), 420 Youth National Champion (2012) and ISAF Youth Worlds 420 bronze medallist (2012).
The appointed Team Manager and coach, Jack Fenwick commented "Having watched our sailors at the recent selection event I am really excited to begin training with them. We have some very talented sailors this year and their strengths complement each other greatly. We have some tough training lined up for them, but I am confident that this will pay off, and we will be seeing British sailors on the podium."
David Campbell-James, Chairman of Selectors and RYA Match Racing Chair: "We have selected teams that we believe will do well at Ledro with an eye on experience, but also looking to the future. We have selected early so that the selected teams can train together up to the event starting with the final weekend of the Winter Match Racing series and the BUSA Match Racing Nationals. The teams will have a Coach / Manager working with them up to and at the World Championships. We wish them all good luck."
All teams now have four months to train and prepare themselves to race against the best university sailors from across the world. FISU recently announced that they are expecting teams from Australia, Brazil, Canada, Finland, France, German, Italy, Japan, Poland, Russia, Singapore, Switzerland, Turkey and, United States of America.
Follow the action during the event via their website or here on BUSA.
GBR 1
Nicholas Wilkinson – University of Bristol
Fergus Barnham – University of Portsmouth
Frederick Brown – University of Bristol
Robert Hooper – University of Bristol
GBR 2
Connor Miller – Loughborough University
Michael Matthews – Loughborough University
Harry Houlding – University of Portsmouth
Bruno Van Dyke – Southampton Solent University
Women's
Annabel Vose – University of Southampton
Emily Nagel – University of Southampton
Amy Prime – University of Southampton (Graduate)
Hannah Peters – Royal Holloway University