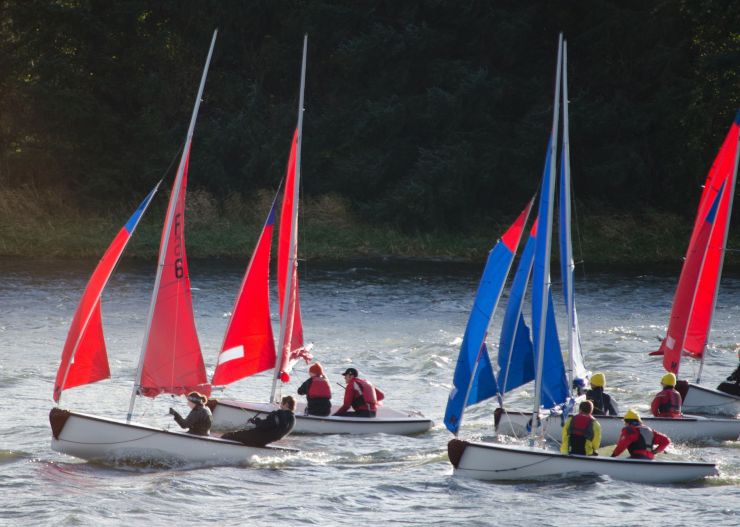 Edinburgh Blue, Strathclyde Blue, St Andrews Pink, Strathclyde White, and, through the Playoffs, Glasgow Black have qualified for the Finals.
University sailing in Scotland is organised by Scottish Student Sailing. Three team racing League weekends, hosted by different University Sailing Clubs (USCs), are organised each year in the autumn and new year. These also act, for Scotland, as qualifiers for the Playoffs and Finals of the British Universities and Colleges Sport/British Universities' Sailing Association Team Racing Championships that are held at the beginning of April.
Ruth Cannell-Whiteley, Scottish Student Sailing Team Racing Coordinator and Scottish Representative on BUSA reports on the Scottish Student Sailing team racing League Weekends and BUSA Qualifiers 2013-14 .
Meanwhile, Scottish Student Sailing is holding the open Scottish Team Racing Championships from 14 to 16 March, to be hosted by Aberdeen University Sailing Club.
See Report with photos of the from the second League weekend, on Forfar Loch, from Leanne Fischler of the University of Dundee.
Follow Scottish Student Sailing on its website and on "target="_blank">Facebook.
Follow the open Scottish Team Racing Championships on Aberdeen University Sailing Club.
Follow the 60th Anniversary edition of the BUCS/BUSA Team Racing Championships 2014 here and on Facebook.