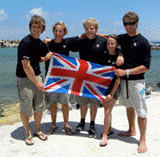 Shaw regains GBR's World University Match Racing crown
Double British Universities Match Racing Champion, Andy Shaw and his crew, are celebrating today after being crowned World Universities Match Racing champions following an emphatic win at the fifth FISU World Match Racing Championships held in Gazi, Crete last week (5-12th July).
After Mark Campbell-James won the first ever event for GBR back in 2000, no British crew has been able to regain the crown since however 20-year-old Southampton University Ship Science student Shaw, made no mistake in reclaiming the title this year winning 17 of his 19 races.
Competing at what is seen as the pinnacle event of student match racing for the first time ever, the Itchenor Sailing Club member wasn't sure what to expect. Being crowned world champions however surpassed the teams goal of "a medal" at the event.
Shaw comments : "We didn't know we were number one ranked before we raced so we weren't going in there expecting to win – we knew what our abilities were however and we trained quite hard for it so we knew we could do it.
We came here knowing the competition would be tough, knowing other really good match racers have been here and not won, so to have won it's just brilliant and it feels amazing. All our boat handling was really smooth and all the crew did their jobs perfectly – to have won practically undefeated and bring the crown home to the UK after ten years just makes it even better!"
Shaw dominated the event right from the start winning 10 of his round robin races, going into the second round of racing in first place. He then beat Frederic Denis (FRA) in the second stage 2-1 followed by Marte O'Leary (IRL) 2-0 in the semi final securing his place in Sunday's grand final. In straight wins Shaw emphatically blew second ranked Jay Griffin (AUS) right out of the water rounding off an exceptional performance for the team at the event and claiming the coveted title in fine form.
The bi-annual event, sailed on J24s, is open to two teams of four or five student sailors from each country. Applications for the British team were made in February with the RYA and BUSA (British Universities Sailing Association) selecting two teams for the event awarding each of them a grant to cover the cost of the competition.
Thirteen separate teams from nine different countries entered the fifth instalment of the event this year with a second British team headed up by Bristol University Research Engineer James Goss, joining Shaw in GBR's event line-up.
Along with his crew, the 22-year-old, who is a member of Burghfield Sailing Club, made a cracking start to proceedings in the round robin stages qualify for the next round in second place behind Shaw. After an extremely close battle in their second round test Austraila's Jay Griffin, the eventual second place finisher, scooped the win 3-2 leaving Goss to fight it out in the bottom four semi final race-off. Beating Frenchman Frederic Denis but losing out to Lin Christopher of Singapore Goss ended the event in a very credible sixth place.
Goss commented: "We are very pleased with how we did during the round robin and i think we surprised ourselves finishing second in that stage. I guess that raised our expectations so we were slightly disappointed going out in the second stages but we've had a really fun week and learnt a lot. We're definitely going to be doing some more match racing in the future."
"I'm doing a doctorate so I've still got another three years of university sailing left. Hopefully i can do this event next time and use my experience to defend the crown!" he concluded.
For more information about the FISU World Match Racing Championships click here and for more information on University Match Racing click here.
2010 FISU World Match Racing Championships GBR Teams
GBR 1:
Andy Shaw, 20, Southampton University ? Helm
Rachel Williamson, 21, Portsmouth University
George Yeoman, 20, Newcastle University
Ben Ainsworth, 23, Southampton University
Ed FitzGerald, 21, Newcastle University
GBR 2:
James Goss, 22, Bristol University
Chris Carden, 22, Bristol University
Elliott Parsons, 22, Exeter University
Harriet Marsden, 21, Bristol University
Pete Johnson, 23, Plymouth University
---
FISU World University Match Racing Championships 5-11 July, Greece.
Sun (1500): GBR 1, ANDY SHAW WINS GOLD (3-0). GBR 2, James Goss came 6th.
---
Sun (0700): Going out for the final and the 5/6th playoff. Both teams drew blue ends first, line will most likely be port bias as always and windy so no draw back being blue. So it's Andy vs the AUS (Griffin) who beat Goss in the quaters 3-2. Goss is now facing the SIN team who finished the round robin in 4th. We're heading to the boats now, sun cream on, mixing drinks, and taping up broken watches.
---
Sat (1600): Shaw's team are through to the final! 2 wins over the IRL boat.
Goss is through to the 5/6 final. Won his first race by a strong lead, lost the 2nd by a boat length if that, after 2 laps of attacking, defending, rolling and passing. Won the third by half a leg after a flawless pre-start.
Good day, deff a GBR on the podium.
---
Sat (1200): Lunch time – Well Shaw's team are through with a convincing 2 more wins today. The French team didn't have the speed to put Shaw under pressure in the 25kts+ winds today. Unfortunately Goss failed to make it through the quarters and is now in a 5-9 semi final. Goss went to the last match in a best of 5 quarters against one of the AUS teams. Winning every Pre-start and having the better upwind speed, the AUS where able to attack on the runs (raced without spinnakers). The last match the AUS got ahead just after the windward mark, but goss forced them all the way out to the Pin-end side the run. However after breaking the overlap and then getting a penalty for holding above 'proper course', The race was over.
Andy has selected to race the IRL boat in the Semi's as they are only 4 up and under weight and the wind remains nearly 30kts. Goss has selected the FRA boat who Andy beat in the quarters for the same reason.
Fingers crossed.
---
Sat (0700): Just going sailing for the quarter finals. It's one all, but people are feeling confident. Breeze is high, we've had clouds here which everyone has said is very strange for July. This has meant the evening wind hasn't died and has created a large swell. Also the organisers are getting a little concerned about their boats as always, a few ripped kites, and one boat hit the rocks on the way to the dock. Our pre event training advantage has slipped away now as everyone has gotten to grips with the boats and how they sail. Yesterday it was ALL about winning the pin and the races we lost where the ones when we didn't do that, so hopefully we'll exploit the big gains today. If both teams win the next stage it's a guaranteed GBR boat on the podium. Fingers crossed.
---
Fri: Round robin just finished I've just got off the water
Unofficial results put Andy in first on 10 wins, Goss in second with 9 points. Which means they race the boats that are top 2 from the repecharge. Everyone on a high at the moment. Rep will start in about 1 hour, maybe maybe we'll start our next races after that.
---
Racing started today in Gazi, Crete, Greece this morning, with GBR1, team Shaw currently ranked as the top sailor in the fleet of 13 teams. Daily updates from Niall Myant (Team Coach and Manager) and more photos will be posted on the BUSA Sailing Facebook page: http://www.facebook.com/home.php?#!/group.php?gid=333440602148
TEAM MEMBERS:
GBR 1: Andy Shaw, Ed Fitzgerald, George Yeoman, Ben Ainsworth and Rachel Williamson.
GBR 2: James Goss, Chris Carden, Elliott Parsons, Harriet Marsden and Pete Johnson.