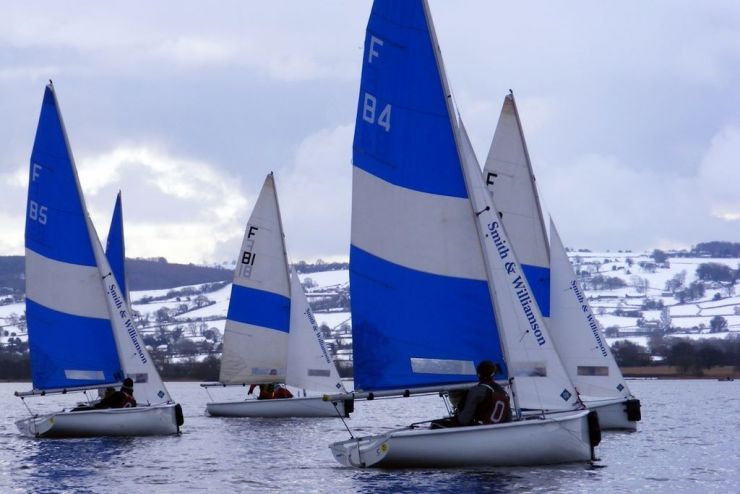 In all the years, BUSA have never been faced with umpires snowed in, area reps stuck in France due to avalanches, road closures and lakes freezing over, but despite this uncontrollable factor, competitors joined forces to shovelled snow from slipways and launched boats whilst being attacked by snow balls in order to take part in the Team Racing Qualifiers this weekend.
Almost all the teams made it to the qualifiers, despite adverse travelling conditions to compete for places in the championships and playoffs, with some good results. Jon Napier, International Judge was "Pleased to say that the Western Qualifier was good, very well run by ." There was some spectacular sailing taking place despite the cold weathers, and the teams and helpers alike did an amazing job to get the qualifiers running.
Grafham Sailing Club, who where under 8 inches of snow the day before were ready for anything, with land rovers on standby to get competitors and boats up the lane to the venue, shovels at the ready and offshore kit for all the helpers!
Unfortunately Spinnaker Sailing Club's water was frozen over at the weekend, prohibiting the South / Central Qualifier from taking place, but with their cooperation we are pleased to announce that the qualifier will be taking place on Sunday 22nd February, giving those teams the opportunity to play for positions in the playoffs as well as the finals.
BUSA would like to say a huge 'thank you' to the Area Representatives, Sailing Clubs, organising teams and the race officials who made the qualifiers possible in this cold weather. Congratulations to the teams making it through to the finals, and good luck to those who made it to the playoff's, which will take place on the 7/8th March at Bartley Green Sailing Club, hosted by Birmingham University.
For more information on the Playoffs please check the BUSA website or contact Will Rook: wxr555@bham.ac.uk
Full Results will be published after the final qualifier.
All the best,
Tanya
BUSA Team Racing Coordinator
For photographs of the Western Qualifier, and the teams having fun in the snow, follow this link to: http://www.photoboxgallery.com/nvphoto