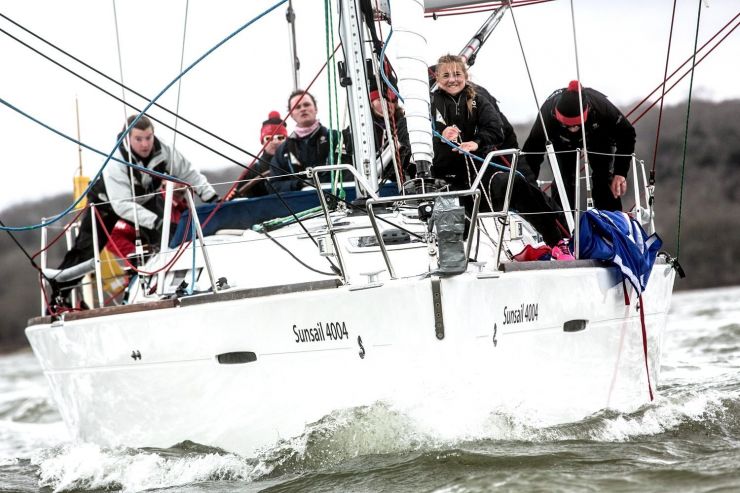 The 2018 Yachting Championships of the British Universities & Colleges Sport (BUCS), in conjunction with the British Universities' Sailing Association (BUSA), started in the Solent on Monday 27th March and completed with a Final Series on Thursday 30 March, when the 24 teams competed in Championship and Trophy fleets.
190 student sailors, in teams of 8, representing universities from St Andrews to Plymouth and Swansea to Surrey had set off from Port Solent in Sunsail Fast 40s first thing on Monday morning and raced in the Solent over four days, berthing at Gunwharf Quays, Portsmouth.
See the full Report, including BUCS Points and with photos. Also on Yachts & Yachting.
Results from the Qualifying Series, and the final Championship (incl. BUCS Points) and Trophy (incl. BUCS points) fleets
The following trophies were presented and awards made:
Sunsail Trophy (Champions) winners – Southampton Solent Black
BUCS medals awarded to the top three teams from the 'Championship' Fleet
Trophy (Trophy Fleet) winners – Oxford Blue
BUCS medals awarded to the top 3 teams from the 'Trophy' Fleet
Jim Saltonstall Teapot Trophy for the winner of the Long Inshore Race – Southampton Solent Black
The Scottish Trophy – Edinburgh Pink
The Welsh Trophy – Swansea Green
The Sunsail award for the most improved team – Southampton Solent White
The top English (Solent Black), Scottish (Edinburgh Pink) and Welsh (Swansea Green) teams may be invited to the Student Yachting Worlds 2018 (providing they are eligible to race, with no crew changes). If the winning team is ineligible to compete then a runner up may be offered an invitation.

The event was followed on
Facebook
Special thanks to Karen Rawson of Sunsail for her blogging and photos and to BUSA Keelboat Officer, Harry Bowerman for his great images – see Harry Bowerman Photography