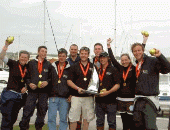 Thirty five university teams from across the country and Ireland headed to Port Solent and Gunwharf for four days of tough yacht racing in the Solent. With the leaders changing daily, Southampton Solent White, skippered by Chris Witty, have won the BUCS/BUSA Yachting Nationals of 2009 and for the third year running!
Leading for a majority of the week is Plymouths Tom Phipps who ended the week in second place. In third is local team Portsmouth White skippered by Sam Woolner, who were in the lead at the start of racing on the final day, but failed to continue their consistent results on the last day of racing, finishing 15th and 9th. This is the team to watch out for next year!
Thanks go to Sunsail ,Tiger Tiger, Gunwharf, Steve (AKA Social) from Portsmouth Uni, Mark layers Drew and John, the Protest committee (who were kept very busy all week) and Bob and Simon on the Race committee.
Everyone is now looking to see who will win the BUCS/BUSA Team Racing Championships and BUSA Inlands, both at Datchet this week.
Full results below.