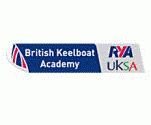 The British Keelboat Academy, the joint keelboat racing initiative between the RYA and UKSA, are delighted to announce that applications are now open for 2012's squad selection trials which will take place over two weekends in September.

John Derbyshire, RYA Racing Manager, said: "The Academy has been running for over two years and in this time has gone from strength to strength offering sailors aged 18-24 the perfect opportunity to develop their keelboat racing skills.

"The BKA provides training in a range of areas both on and off the water, including boat handling, sail trim and campaign management, and also a number of areas of personal developments including teamwork and personal goal setting. Training is delivered by RYA qualified Keelboat coaches and industry specialists. All of this gives the BKA squad members the tools to run a successful keelboat campaign, fast-tracking their development and progression towards racing at the highest level," Derbyshire explained.

Luke McCarthy, British Keelboat Academy Head Coach, commented: "Preparations are already underway for next year's campaign and I am very excited to see the next wave of talented keelboat sailors at the selections in the autumn. The BKA offer a unique programme so are looking for people who have a passion for the sport, are determined and eager to learn and who have the right attributes to fit into the BKA squad.

"Over the last couple of years the BKA has produced a constant stream of talented young keelboat sailors who have been able to identify a clear pathway for their future sailing. Members of the Academy sail regularly on the Farr 45 Kólga, loaned to the BKA by the professional Rán Racing team, and UKSA's fleet of J80 keelboats and enjoy competing in a range of events throughout the season.

McCarthy concluded: "There are still spaces available on the BKA race training weekends and I would urge sailors to attend one of these if possible as it will definitely give them an advantage going into the selection process. Spaces are bound to be limited at either one of the three regional centres so I would recommend booking as soon as possible to avoid disappointment."

Online applications for 2012 BKA squads are now open with selection trials scheduled for 17/18th and 24/25th September at UKSA. Applications close at 12pm on Monday 15th August. To apply, please visit www.britishkeelboatacademy.org and click on ?Squad applications'.

There are regional Keelboat training sessions taking place at Plas Menai, Port Edgar and UKSA throughout the summer. For a complete list of dates see the 'Regional Centres' pages of the website, where you will also find the contact details for the centres to book places.

The BKA's sponsors include X-Ray at 77 and Group Dental, plus a number of generous supporters and suppliers. For more information about the British Keelboat Academy and how you can help with fundraising visit BKA website at www.britishkeelboatacademy.org, or follow the BKA on Facebook at www.facebook.com/BritishKeelboatAcademy or on Twitter (@tweetbka).