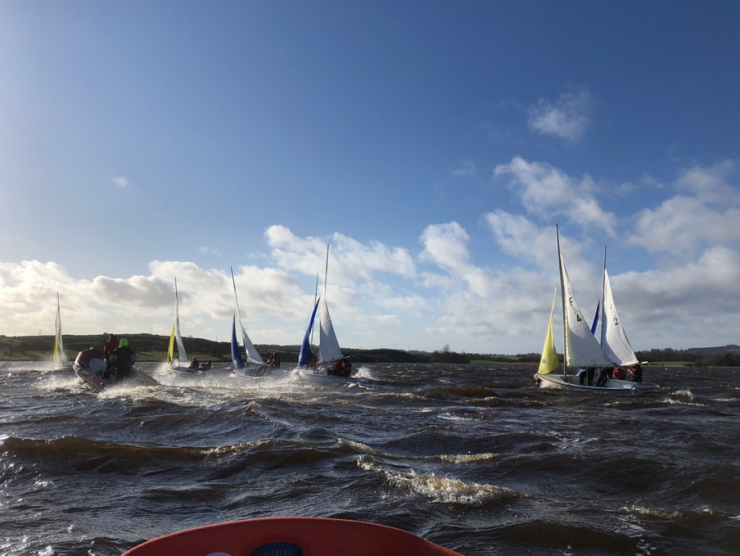 This year, Scottish Student Sailing held, on behalf of BUSA and in close collaboration with respective host universities, three qualifier events.
The first event was hosted by Glasgow University Sailing Club, at Clyde Cruising Club Dinghy Section on November 16th and 17th 2019. Unfortunately the lack of wind prevented our sailors from even launching boats on a very glassy Bardowie Loch. With no sailing completed, the stakes for successful SSS2 and SSS3 weekends were high.
The second event was hosted by the University of St Andrews Sailing Club on the 1st and 2nd of February at Loch Ore. With a very windy first day and gusts up to 40 knots, teams had to wait for PRO James Chapman to give the green light and get boats launched. A round robin – in 4 pools – was completed and teams started moving onto leagues. Early February sunsets meant that the rest was to be sailed the next day.
Unfortunately, too much wind died overnight and sailors faced the opposite weather problem the next morning: no wind at Loch Ore. At about 1pm, there was just about enough breeze to go ahead with racing. Short of one race, a set of 1 league was completed in Platinum, Gold, Silver and Bronze.
The third event was hosted by Edinburgh University Sailing Club the following week – 8th and 9th of February at Loch Ore. With national weather warnings across the country for Storm Ciara, everyone was apprehensive as to whether we would get out on the water.
Considering the breezy conditions on Saturday, PRO James Logan decided to only make Platinum and Gold fleets sail with reefs in. We completed the last race left from the previous weekend and immediately moved on to playoffs. Unfortunately gusts built up to become too strong; Platinum only completed 60% of their second league and Gold 50%. As such, results following the first league were retained.
On the Sunday, we all gathered at Loch Ore, in hopes that perhaps the wind would die down. Unfortunately it didn't and, as Loch Ore Meadows slowly flooded, the event was canned around midday. Everyone lent a hand to pack up boats, but towing too, had to be postponed to a later date.
All in all, this year, though Scottish Student Sailing had to face some very diverse and tricky weather conditions – we still pushed to deliver some good sailing.
A massive congratulations to The University of Strathclyde Sailing Club's 1st Team for winning the SSS Leagues 2020!
Congratulations to all the other teams going to Finals in April in Cambridge and Playoffs at the end of the month in Bristol!
Results:
1st - Strathclyde 1
2nd - Edinburgh 2
3rd - Edinburgh 1
4th - St. Andrews 1
5th - Glasgow 1
6th - St. Andrews 2
7th - Strathclyde 3
Full results can be found here
A few words from BUSA Representative for Scotland, Emily Hill
"Despite the challenging conditions this year, it was great to get some quality racing in at Loch Ore and we hope that everyone enjoyed each event as much as we did. A massive thank you is in order for the SSS Race Committee and other volunteers who turned up at the crack of dawn at each event ready to get some racing in. Best of luck for those who qualified through to Finals and Playoffs!"
A few words from SSSailing Chair, Emma Fowler
"True Scottish style, the weather gods were not kind to us this year. Despite one weekend of no wind and Storm Ciara hitting us full force another, we still managed to get through the pool stage and a league. Massive congratulations, and good luck to everyone who is through to playoffs and finals. I want to mirror Emily's thanks to everyone who helped run the events and say a massive thank you to Emily for all the hard work she put into making everything possible. I hope everyone enjoyed the season, see you at Champs!"
And last but certainly not least, we would like to extend a big thank you to all the volunteers that dedicated their time at these events, to all the host university sailing clubs and their helpers for their support, as well as to all participants!
We look forward to seeing you next year, on the water..!
A glassy Bardowie, and the 2019-2020 SSS committee at SSS1

Team Racing at SSS2, Loch Ore (Photo credit J.Hill)

Team Racing at SSS2, Loch Ore (Photo credit J.Hill)