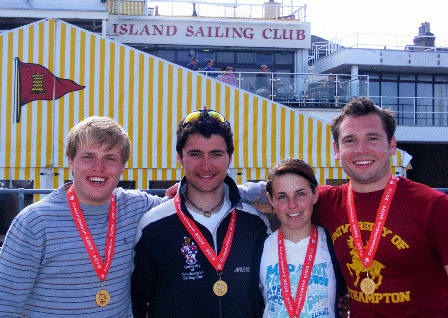 Andy Shaw of Southampton University won the BUCS/BUSA National Match Racing Championships sailed at the Island Sailing Club Cowes this weekend April 23-25 in Sonar Keelboats.
The event attracted 12 Teams from Universities across the UK including Edinburgh and St Andrews. Two groups sailed round robins to split the fleet into Gold and Silver leagues for the Saturday. At the end of Saturday Mark Powell of Edinburgh was leading the Gold League with four wins with Andy Shaw (Southampton) in second place, also on four wins but having lost to Edinburgh. Tom Malindine from Exeter was third, whilst Ed Green of Bristol led the Silver Fleet. These teams went forward to the best of three races semi Finals on Sunday.
Semi Final 2 was over relatively quickly with Andy Shaw beating Tom Malindine 2-0. Ed Green put up more of a fight in Semi Final 1 though and his match against Mark Powell went to a deciding third race, which was won by Powell.
The Final was, therefore, Southampton v Edinburgh with the prospect of Edinburgh adding to their BUSA tally, having recently won the BUSA Team Racing. It was not to be, however, whilst they did need a deciding third race it was Andy Shaw and Southampton which emerged victorious to win the Championships.
In the petit-final for third and fourth place Exeter beat Bristol 2-0.
| | |
| --- | --- |
| PLACE | University |
| 1st | Southampton |
| 2nd | Edinburgh |
| 3rd | Exeter |
| 4th | Bristol |
| 5th | Newcastle |
| 6th | Bath |
| 7th | St Andrews |
| 8th | Warwick |
| 9th | Plymouth |
| 10th | Southampton Solent |
| 11th | Portsmouth |
| 12th | Loughborough |