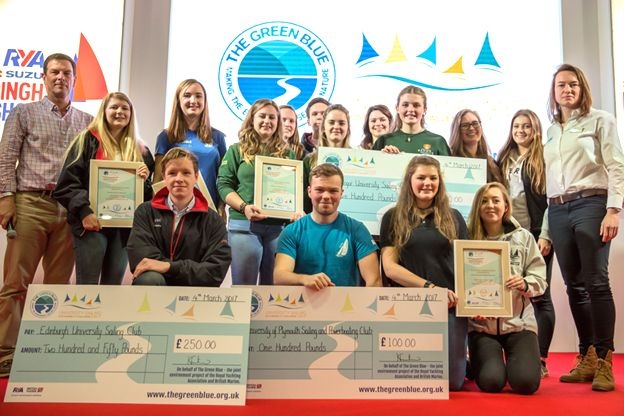 At the Dinghy Show at Alexandra Palace today, Saturday 4 March 2017, the winners of the University Sailing Sustainability Challenge 2016-17 were announced.
Having clinched first place, Bangor University Sailing Club received the competition's £500 top prize, along with their certificate of congratulation, from Peter Saxton, BUSA President and Kate Fortnam, the Green Blue's Environmental Outreach Officer. Edinburgh University Sailing Club (EUSC) clinched 2nd and the £250 prize, and in 3rd place was the University of Plymouth Sailing and Powerboating Club who were awarded £100. In recognition of the exceptional standard of entries in this year's competition, a joint fourth place prize of £50 was also awarded to the university sailing clubs at Cardiff, Kent and Portsmouth
Set up by The Green Blue and supported by the British University Sailing Association (BUSA), the University Sailing Sustainability Challenge 2016-17 provided an ideal platform for university sailors to demonstrate how achievable sustainable boating can be to the rest of the boating community.
Green Blue have indicated that the University Sailing Sustainability Challenge will run for a third year in 2017-18. So, get in touch with Kate Fortnam