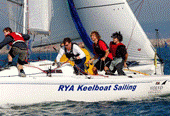 Mark Campbell-James jumped to joint second on the all-time winners list after claiming his third RYA National Match Racing Championship crown at Weymouth and Portland National Sailing Academy (WPNSA) this weekend (10-12 October).
In a riveting three-day contest, the 28-year-old from Godalming overcame an indifferent round-robin to hit back and defeat defending champion Nick Cherry in the semi-finals before completing a three-race clean sweep of Mason Woodworth in the final to claim his hat-trick of RYA National titles on the 20th anniversary of the trophy being awarded.
Campbell-James, who won his two other titles in 2004 (joint winner with brother Paul on percentage of wins) and 2005, now sits tied with current ISAF World Match Racing Champion Ian Williams on the overall winners' chart with two-time Olympian and America's Cup sailor Andy Beadsworth's five National crowns won between 1992 and 2000 putting him at the top of the pile.
Campbell-James was unable to compete on Friday, Graham Sunderland taking the helm for the opening four races and picking up two wins and two losses. Campbell-James returned to skipper for the final two days but lost his first two races on Saturday to leave his team struggling on two wins and four losses.
However a change in tactics paid off for the team and they snuck into the semi-finals with five wins and four losses from their nine races, edging through ahead of Tom Makey, who also finished the round robin with five wins, on account of Campbell-James winning their head-to-head.
A delighted Campbell-James said: "It does feel good to have won three titles but we weren't thinking about that going into the event, it was more about wanting to win because we have annoyingly missed out in the past two years so we are really pleased.
"I haven't been match racing since the RYA Winter Challenge finals back in March and on Saturday we just seemed really slow for some reason and we didn't have the boat speed. We decided then to assume that we were slower than everyone else and we would try to take everyone out on the start line and then try to stay ahead of them.
"I think Nick would have been the favourite going into the semi but although we lost the one semi-final race to him on Saturday we felt completely different on Sunday, there was a nice eight-10 knots and we seemed to go a bit better; we felt if we got a good start we could sail away, which was the complete opposite to the day before."
Two-time and reigning champ Cherry had romped into the semis in pole position having completed an emphatic nine-race clean sweep. Woodworth's Investec Private Bank team only lost to Cherry in the round-robin putting him in second overall and seeing him paired with third-placed Ali Hall for the semis, Hall having picked up six round robin wins.
Cherry got the upper hand over Campbell-James in the first encounter of the semis but with the deciding two races of the showdown contested on day three of the Championships, a rejuvenated Campbell-James hit back to level the scores before booking his place in the finals with race three victory, Cherry being forced to return to the start line three times enabling Campbell-James to sail into an unassailable lead.
In the other semi, Hall, who secured an impressive third place at the RYA Winter Challenge Series Grand Final in March, won the opener against Woodworth but like Campbell-James, Woodworth saved his best for Sunday and sealed back-to-back wins to land his finals spot.
However the first-to-three-points final was all one-way traffic as Campbell-James, determined to avoid a repeat of the disappointment of the past two years, clinically nailed three straight wins to convincingly wrap up the title and lift the Eacott Trophy.
Cherry also completed a three-win clean sweep over Hall in the petit-final to seal third place overall.
2008 RYA National Match Racing Championships final standings:
| | |
| --- | --- |
| Posn. | Skipper |
| 1 | Mark Campbell-James, Paul Campbell-James, Andrew Yates, Andy Oliver, Graham Sunderland (Fri only) |
| 2 | Mason Woodworth, David Brown, Sam Richmond, Simon Hamilton |
| 3 | Nick Cherry, Nick Houchin, Matt Adams, Connor Myant |
| 4 | Ali Hall, Rob Grieg-Gran, Dave Newey, Gaz Owen |
| 5 | Tom Makey, Matt Pinner, James Wade, Ewan Marshall (BRISTOL UNI & BUSA FINAL WINNERS) |
| 6 | Robbie Allam, Adam Richards, Tom Odell, Jez Fowke (Sat/Sun only), Sam Pearson (Fri only) |
| 7 | Mary Rook, Katie Archer, Bethan Carden, Vicky Lenz, Rebecca Marriott |
| 8 | Matt Greenfield, Niall Myant, Adam Wallace, Nick Butt |
| 9 | Sam Goodchild, Jonty Cook, Tom Altmann, Rory Spriggs, Nicholas Wilkinson |
| 10 | Charlotte Lawrence, Katie McKenzie, Phil Lawrence, Lavinia Paternoster, Jo Brigg |