Now in it's fifth year, the Green Blue's University Sailing Sustainability Challenge expanded yet again in 2019-20, with 14 universities getting involved.
A joint initiative between the RYA and British Marine, and supported by BUSA, the annual challenge sees universities across the UK improve their club's sustainability through activities such as litter picking, promoting reusable water bottle use and using the "Check, Clean, Dry" process to prevent the spread of invasive species.
What's more, clubs must document all of these actions and promote them across their social media channels, helping to spread the word about sustainable boating throughout the university sailing community. This year, there were three different levels of award on offer: bronze, for those clubs new to the challenge, silver and gold, for clubs who had already completed the bronze in previous years.
University club representatives travelled to the RYA Dinghy Show at Alexandra Palace, London, on Saturday the 29thof February. All those that had completed a level of the award were presented with certificates on the Main Stage by Kate Fortnam, The Green Blue Campaign Manager, and Karen Thomas, Chair of the British Universities Sailing Association.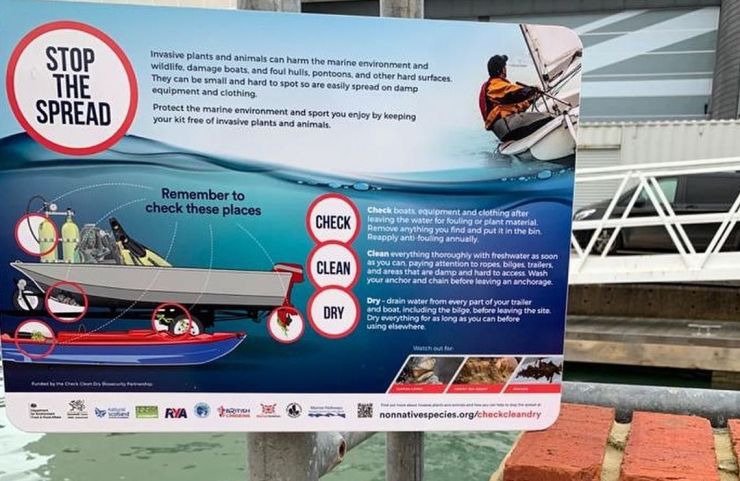 University of Portsmouth Sailing Club display an invasive species information sign on the Camber, Portsmouth.
Following the Award presentation, successful clubs were also entered into a prize draw. For the bronze level, the University of Sussex Sailing Club were the lucky winners, walking away with a £300 prize. At silver level, the stakes were even higher, with the University of Bath Sailing Club taking home £600 in prize money.
Congratulations to the following university sailing clubs for taking part in the Green Blue University Sailing Sustainability Challenge this year:
SILVER AWARD:
University of Bath Sailing Club
University of Portsmouth Sailing Club
BRONZE AWARD:
Bangor University Sailing Club
Bournemouth University Sailing Club
Cambridge University Cruising Club
UEA Sailing Club
Lancaster University Sailing Club
University of Plymouth Sailing and Powerboating Club
University of Sheffield Sailing Club
University of Sussex Sailing Club
University of St. Andrews Sailing Club
OTHER PARTICIPANTS:
Brunel University Sailing Club
Loughborough Students Sailing & Windsurfing
Newcastle University Sailing and Yachting Club
University of Sheffield Sailing club preventing the spread of invasive species at Pennine SC.
The Green Blue's Kate Fortnam, in the RYA's report from the event, commented: " I was delighted to see that so many university sailing clubs took part in the challenge this year. It's great to see so many young people working to make the sport they love more sustainable."
"Looking forward to next year we would love to see even more clubs becoming more environmentally aware and raising the profile of these positive actions."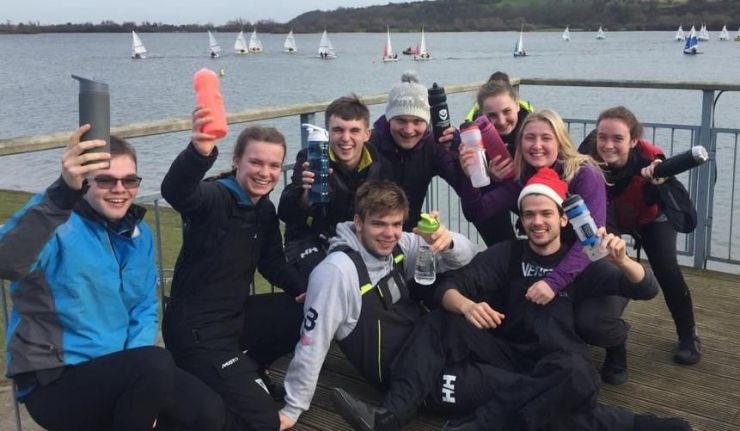 Loughborough Student Sailing & Windsurfing promote reusable water bottle use at the Nottingham Snakebite.
So why should your club take part next year? We asked some of the 2019-20 winners for their thoughts on the challenge:
"A fantastic challenge, a great way to get important information out to a range of people. Would definitely encourage other unis to take part and do their bit to make a difference for the planet." – Hebe Hemming, Commodore and Sustainability Officer, University of Portsmouth Sailing Club.
"Having the opportunity to sail at a place as wonderful as Chew Valley really encourages you to consider the impact you have on the world around you. Getting involved with the Green Blue University Sailing Sustainability Challenge has really given us a framework to work from. Not only have there been set activities which have a direct impact such as a litter pick but, perhaps more importantly, being part of the challenge has really raised sustainability to the forefront of conversation in the club. It's been amazing to see how much everyone has got involved in the challenge and I don't doubt that we will be back to do gold next year!" – Alex Whitfield, Sustainability Officer, University of Bath Sailing Club.
"It was a great opportunity to be part of the challenge again (our second year!). The highlight was arranging a beach clean – we raised awareness of waste pollution whilst simultaneously making a positive environmental impact. We would recommend taking part as the challenge provides an easily attainable framework of sustainable actions to follow. We would like to thank the Green Blue for organising the challenge and look forward to building upon our actions next year!" – Beatrice, Sustainability Officer, University of Sussex Sailing Club.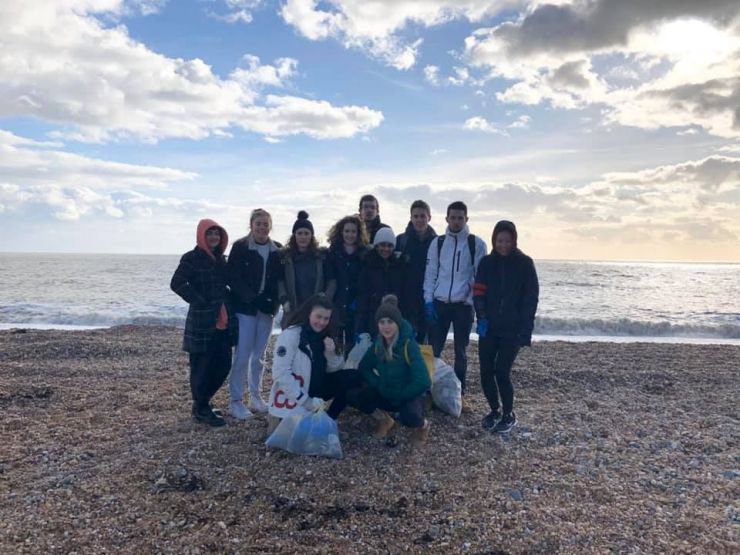 University of Sussex Sailing Club hosted a beach clean on Brighton beach.
The 2020-21 edition of the Green Blue University Sailing Sustainability Challenge will be launched later this year, so keep an eye out for information from BUSA and the Green Blue over the coming months.
Karen Thomas, BUSA Chair, reflected on this year's challenge and would urge more clubs to get involved: "It has been great to see more of our student members and clubs engaging with an important issue both in sailing and the wider society. "

"The RYA Dinghy Show presentation is a nice opportunity to chat to the clubs about what they have been doing around the UK and to congratulate the Sustainability Officers for championing the project back at their home clubs. It's also a good opportunity to get some extra money for your club, so if you're reading this and mulling over getting started then please do go for it!"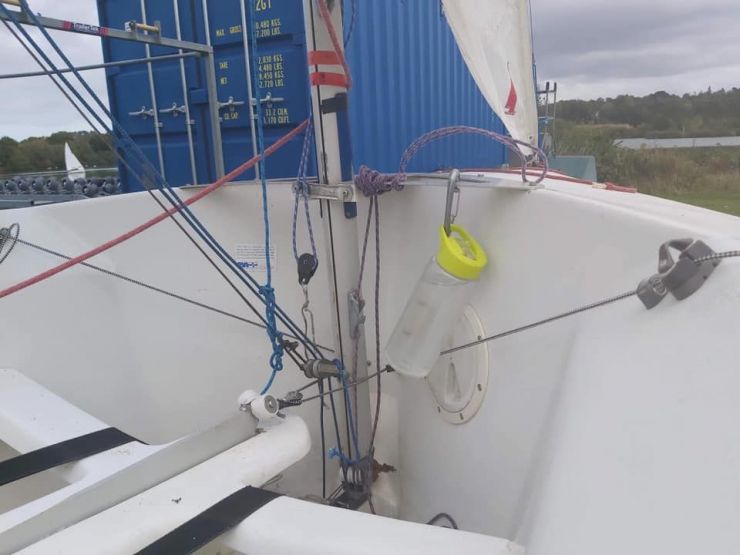 Bournemouth University Sailing Club show us how to secure a bottle in their fireflies to stop it going overboard.