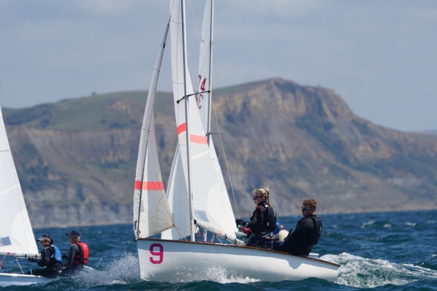 The 2019 Firefly Nationals at Lyme Regis saw University boats from the length and breadth of the country. Many other University students entered independently and in total there were over 50 current or recently graduate students at the event. There was a fantastic show from Birmingham, Bournemouth, Exeter, London and Manchester students, all gaining prizes from our sponsors Lyme Bay winery for their large turnouts.
Emily Walters (Birmingham University SC), claimed the national championship title as she took an early lead with her Helm, Stuart Hudson (aka The Hood), but had to defend the title in an excellent final points race.
The highest placed boat sailed by students was F2246 helmed by the University of Cambridge very own Alex Baxter and his super crew Ella Vincent from the University of Manchester, they took a fantastic 4th place over all.
The University of Birmingham SC's alumni Alistair Smith helming F2710 and The University of Nottingham's commodore Hannah Thompson took an incredible 2nd place in the Marlow Trophy, a gruelling 13 nautical mile race second only to the Gore. Matthew Thornton and Laura Bevan from the University of London took 3rd.
The sailing was incredible with perfect winds and beautiful weather all week, even if the swells were a bit big.
Our social calendar was jam packed all week with fun for everyone, every night there was live music or a disco, our crew's union event had a fantastic turn as did the fancy dress party.
The Firefly class is so unique as it is so welcoming, anyone can sail there and be made to feel truly welcome by those from every level of racing. It is a class that supports students and encourages them, and involves them so they want to keep returning. And keep returning they do!
Here's to Torbay 2020
Photo credits France Davison