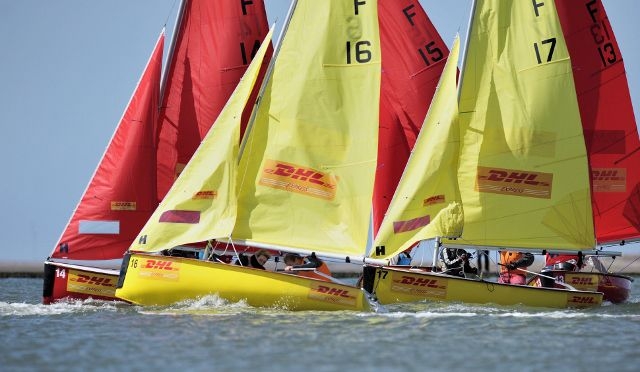 Georgie Corlet writes: "The 2013 British Open Team Racing Championship for the Wilson Trophy was won by Wessex Exempt today (5 May) in a thrilling best of five final sailed on West Kirby's marine lake. The six sailors overcame stiff competition from 34 teams from as far afield as America, Ireland and across the UK, eventually meeting Grafham Gorillas in the tense final round of the three-day event.
"Wessex Exempt (Ben Ainsworth, Rachel Williamson, Jonathon Pinner, Kerry Capps, Tom Heywood, Catherine Friend) put in a consistent performance throughout the 323-race Swiss League preliminary rounds to qualify for the quarter-finals in second place, having won 14 of their 19 races.
"Home-team favourites and current World Team Racing Champions, West Kirby Hawks, qualified at the top of the Swiss League, subsequently beating Royal Thames Yacht Club 2-0 in the quarters. But a shock 2-1 defeat in the semi-finals saw the home team favourites knocked out of the event by Grafham Gorillas (Tom Mallindine, Jamie Dick, Ben Saxton, Holly Scott, Owain Matthews, Suzy Russell).
"After a solid performance in this morning's races, Grafham Gorillas found their form when it mattered, storming their way into the final having already beaten RF Hoosiers – over-night leaders who had been hotly tipped for the Trophy final – in the quarter final.
………
"Race one saw a win to Grafham following a penalty on the finish line, but Wessex came back with a stronger start to finish in a 1,3 winning combination in race two. The third race was closely contested, with boats from both teams taking penalty turns on the second leg, but Wessex gained the advantage on the run and held it to the finish.
"The fourth race saw Grafham start strong; taking an early 1,2 combination, they consolidated their win with some text book team racing manoeuvres.
"And so it came down to the final fifth race decider to determine who would be the new Wilson Trophy Champions. With a Grafham boat over the line, Wessex quickly took control, rounding the first mark in a solid 1,2 position which they never relinquished.
……..
"Winners of the Under 21 Trophy was Bristol University, who finished a credible 11th place overall. The Wilson Plate awarded to the first team not to make the quarter-final cut, West Kirby Sailing Club…….."
For the full story, see Final Press Release and the Results
For further details, links to the event media and the Day 1 & 2 reports with photos, see Event Page