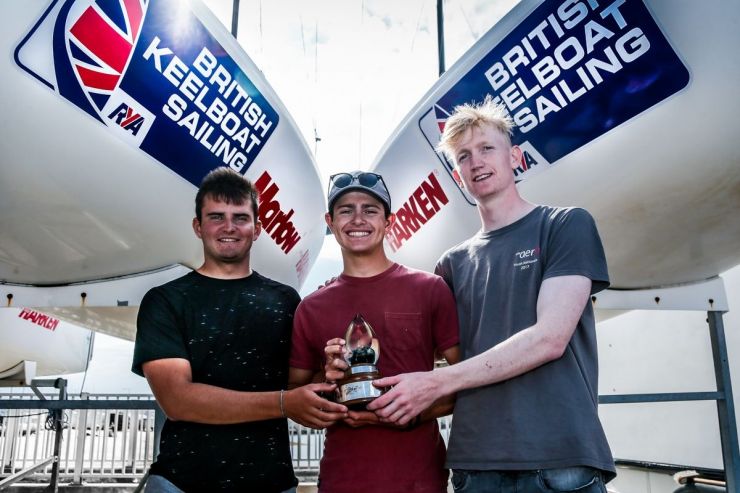 Champions: Matt Whitfield with Jeffery Peterson & Ed Higson © Paul Wyeth
RYA Press Release
4 September 2018
Whitfield retains Harken Youth Match Racing title in convincing style
Six teams assembled at Weymouth and Portland National Sailing Academy this weekend to fight it out for the RYA/Eric Twiname trophy at the Harken UK Youth Match Racing Championships.
Teams gathered on the Friday afternoon for some open training to refresh their Elliott 6.5m sailing skills before heading to Portland house for supper and the first briefing and a discussion on the quirks of match racing rules.
With the draw for boats completed on Saturday morning the teams headed out in to Portland Harbour in a gentle easterly breeze with a threat of the sun making an appearance at some point. Racing got underway with some tight battles from the very beginning.
Defending champion Matt Whitfield started to assert his dominance laying down win after win but the rest of the racing was very tight. In one early match between Octavia Owen and Ted Blowers the lead changed on every leg and three times on the final run with Blowers taking the win in the last fifty metres.
By the end of the day and after ten races each, Whitfield was leading the pack undefeated, Joe Burns was in second place having lost both matches to Whitfield and one against Alaric Bates, and Bates finished the round robin in third having lost one more match. Ted Blowers had done enough to secure the remaining semi-final spot.
While the places in the final were being decided there was also a tough battle going on for fifth and sixth. Owen took the first race, leading from start to finish but Patrick Croghan was not going to give up without a fight.
In their second race Croghan lead off the line but was under pressure the entire time as Owen forced tack after tack up the beat and while not enough to squeeze past she would be tight on his transom come the windward mark.
With a slightly better hoist Owen manged to gybe inside and had almost pulled ahead when a stealthy luff from Croghan resulted in a penalty to Owen. Forced wide of the leeward mark Owen took her penalty and then engaged in another tacking duel on the second beat.
After more tacks than could be counted the boats then rounded the windward mark with just feet between them. A quicker hoist again from Owen saw her going over the top this time, getting far enough ahead that she could gybe in to the finish line and secure fifth place.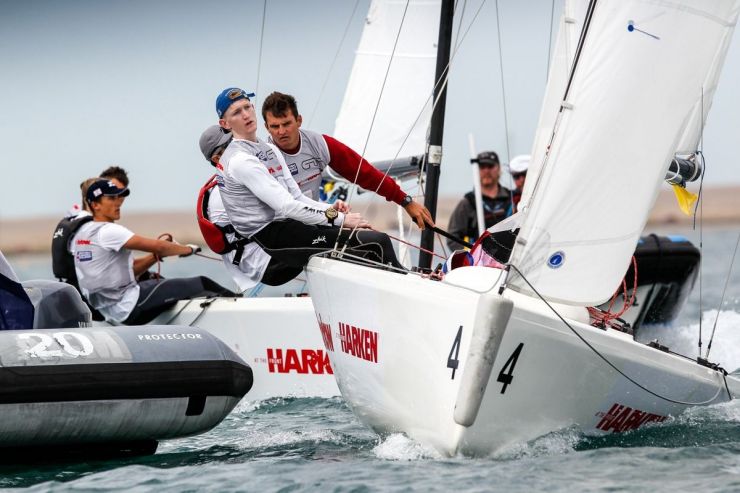 Sunday promised to be a better day on the water with slightly more wind than Saturday and so the teams eagerly headed afloat, ready for the action. Semi-final one was a head to head between Matt Whitfield and Ted Blowers with Whitfield continuing his undefeated streak. Semi-final two saw Alaric Bates lining up with Joe Burns with Burns coming out on top winning his place in the final 2-0.
In the final Whitfield kept his impeccable score line beating Burns 3-0 but the umpires were kept busy in the battel for third place. Five closely fought races between Ted Blowers and Alaric bates saw Blowers take the final place on the podium 3-2.
"Big thanks to my crew for being awesome, they crushed it," Whitfield said. "Massive thanks must go to the umpires, race management team and all helpers for such a slick run event and completing a huge 15 races throughout the weekend in wind that wasn't always easy. I enjoyed all of the races and I am looking forward to competing against everyone again soon"
Big thanks to title sponsor, Harken UK and series partners, Marlow Ropes and Moody Decking and Services.
ENDS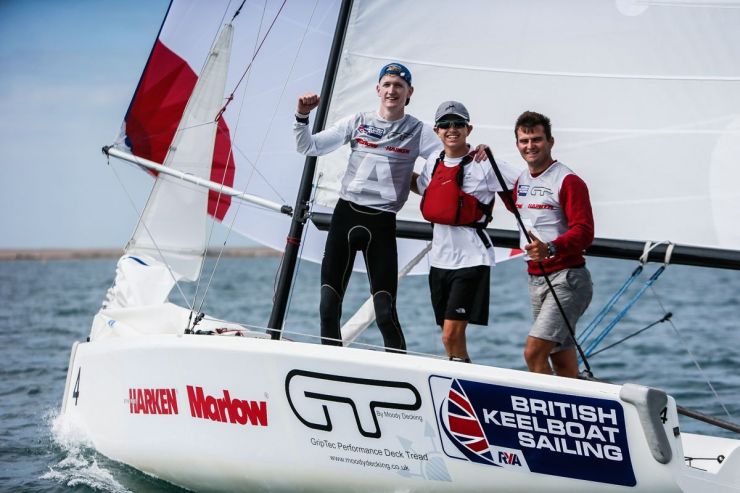 Photos: credit Paul Wyeth