2021 RYA Women's Team Racing National Championship incorporating 2021 BUSA Women's Team Racing Championship
12/13 June 2021
Rutland Sailing Club, Royal Yachting Association
Glorious weather conditions greeted the competitors in the Women's Team Racing Championships at Rutland, and with the knowledge that the Sunday forecast was less than perfect, the race team were keen to get a lot of sailing in.
Being the first big event held in over a year everyone was grateful just to get on the water and do some racing. With half the sailors on the water at any time, there was plenty of that and at the end of the day all teams had completed 14 races.
Some were looking a little tired and it was probably a good job that Covid restrictions meant the usual legendary evening social was not able to happen this year.
Rutland HYDRA Youth Ladies showed remarkable skills both in speed and tactics to finish the day with a clean sheet, winning all 14 of their races. Castaways were lying second with 11 wins, followed by Oxford Alumni and Cambridge Uni tied on 9 wins each.
Mention must also be made to the Rutland MMs team, over half of whom hadn't team raced for over 25 years! Come on the rest of you ladies - we want to see you out there!
Sunday dawned and the light and shifty winds forecast proved to be correct. Little zephyrs crossed the lake but then faded away to nothing. Over the course of an hour the wind came from the full 360 degrees. The race committee, led by PRO Steve Tylecote, were keen to race if possible but not at the expense of fair results.
The decision to abandon the third round robin and go straight to semi finals was called to allow the lower placed teams, some of whom had travelled from Scotland, to start their journeys home.
With two full completed round robins and a clear leader - all forecasts showing little chance of anything meaningful in the next few hours, and all RAF bases scattered around the club showing wind from different directions - the difficult decision to abandon racing was made.
This meant that the Rutland HYDRA youth team of Alice Lucy, Lauren Attwell, Carys Attwell, Freya Pembery, Isabel Leetch and Ellie Hattam, were crowned RYA Women's National Champions.
The Rutland Hydra aspirational youth group are training in all disciplines/classes of sailing that they can access and had been able to train at half term in the club Fireflies so had come out of the blocks looking fast and did not falter. They had to work very hard to get through, especially in the last race against Oxford Alumni which had a gripping final beat turn around.
A huge thanks must go to the Rutland Race Team and the visiting Umpires who gave up their weekend to support the event. We hope there will be many more.
Cambridge University's Juliette Kennedy, Molly Desorgher and Olivia Jacklin won the BUSA Ladies Team Racing Championships.
Full results: events.ksail.co.uk/2021/RYAWomens
RYA Women's National Championship:
1st Rutland HYDRA (14 wins)
2nd Castaways (11 wins)
3rd Oxford Uni and Alumni (9 wins)
BUSA Women's Championship:
1st Cambridge University (and 4th overall)
2nd Edinburgh University
3rd Bath Yellow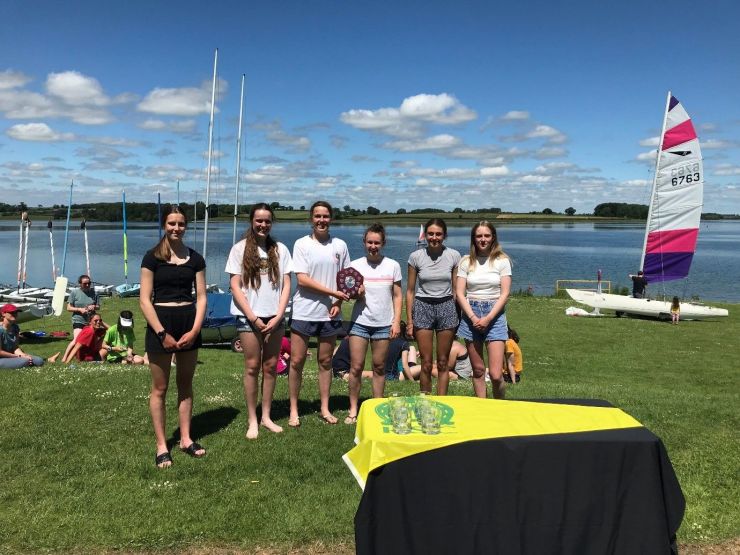 Rutland HYDRA Youth team RYA Women's Team Racing Champions.