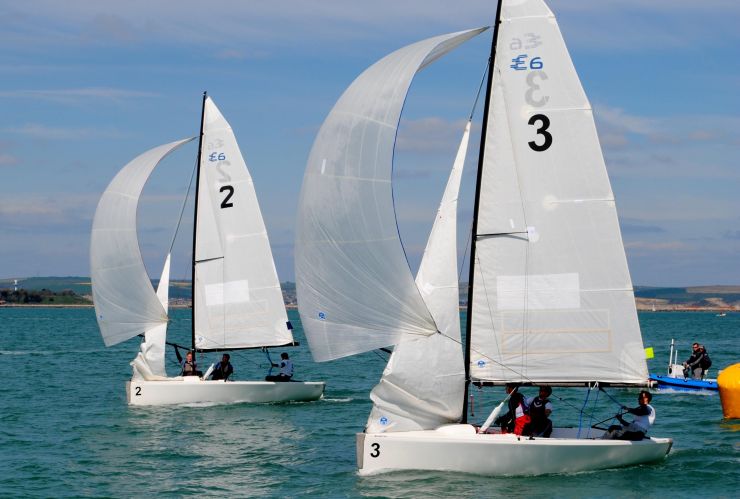 The annual round of British student sailing championships – fleet, team, match and yacht racing – concluded last weekend with the British Universities and Colleges Sport (BUCS) Match Racing Championship 2015, organised by British Universities' Sailing Association (BUSA), in conjunction with the Royal Yachting Association (RYA).
Fourteen teams, representing the Universities of Bath, Bristol, Cardiff, Durham, Exeter, Loughborough, Newcastle, Plymouth, Southampton (Black & Red teams), Southampton Solent, Surrey, Swansea and York, raced over three days on Portland Harbour at Weymouth & Portland National Sailing Academy in the RYAs fleet of Elliott 6m yachts.
Jack Fenwick's daily blogs on BUSA Sailing FB told the story. For the final day, here are the semi-finals onwards: "A tight start between Annabel and Matt in SF1 saw Annabel cross the start line a fraction early, leaving Matt to sail away to win the second race and secure his place in the final to keep alive Solent's chances of defending their BUCS/BUSA match racing title. In SF2 another tight battle between Loughborough and Bath saw both boats round the windward mark close together, but, with another match coming up the beat, they were briefly separated before coming back together in a luffing duel. After much flag waving, Bath were finally deemed to have not kept clear as windward boat, allowing Loughborough to gybe off and sail in to the lead and take their place in the final.
"SF1 went to Solent's Matt Reid beating Annabel Vose off the line and never losing his lead. In SF2 Bath and Loughborough hit the line side by side, with Thomas Williams edging forward all the time. With the port lay line rapidly approaching, Bath were unable to get across and Loughborough lead to the windward mark. The boats never got far apart and a last minute surge from Bath on the final gybe was not quite enough to get past Connor at the finish.
"Another close finish, first race of the final sees Matt Reid slip across the line ahead of Connor Miller to take the win for Solent. In the petit final Bath took the win.
"Annabel takes race two of the petit final in magnificent style crossing the start line nearly 4 lengths ahead and cruising to victory. In another close race in the final Connor narrowly held
of the advancing charge of Matt on the final run. Both races now going to sudden death.
"Connor Miller, Mike Matthews and "Tommo" (Neilson) cross the finish to win BUCS/BUSA match racing."
See the Report